Lucia Elena Průša
cv text contact
A Suitcase (2.02 tonnes of CO2e), Egret Egress, Toronto, Canada
with Birke Gorm, Irina Lotarevich, Marina Sula, Olivia Coeln, Lucia Elena Průša, Parastu Gharabaghi
22.12 – 13.1.2019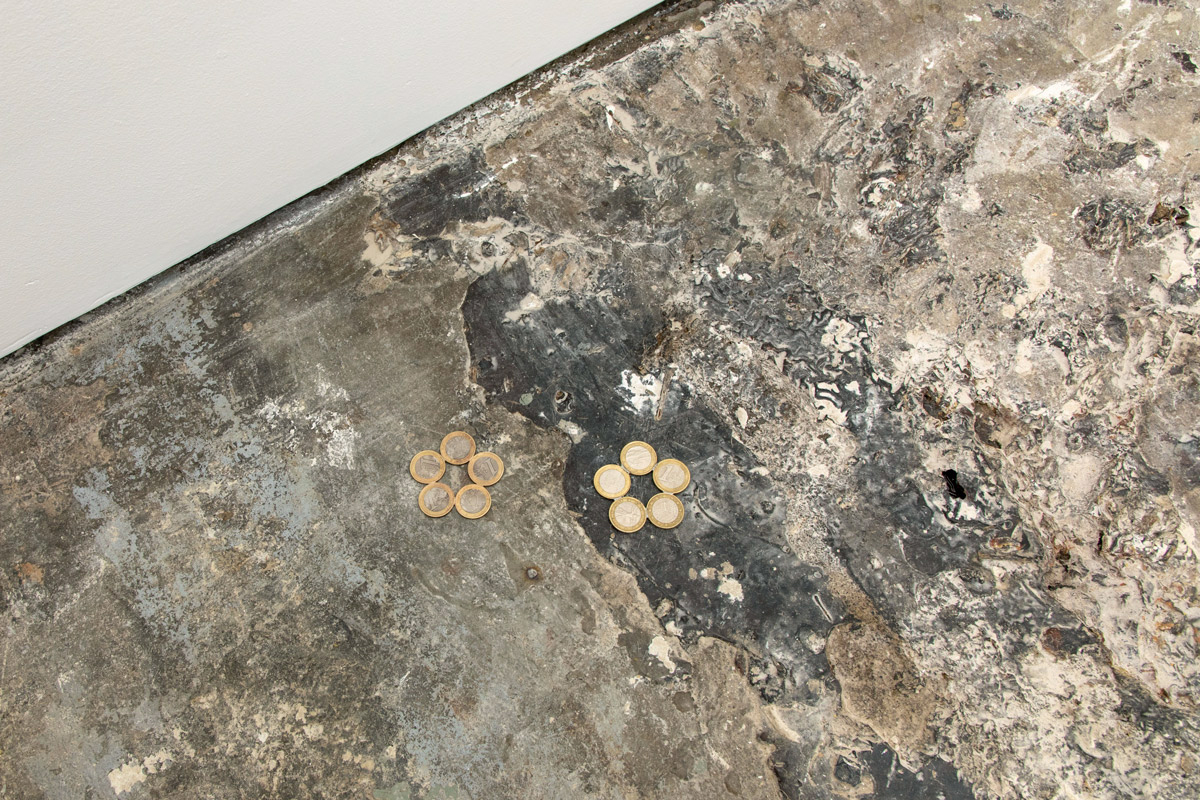 Euroblumen, 2018
brass, cupro-nickel
6cm x 6cm
––
Coins, Eggs and Pills – Lucia Elena Průša & Dan Vogt
Gärtnergasse, Vienna, Austria
17.11. – 16.12.2018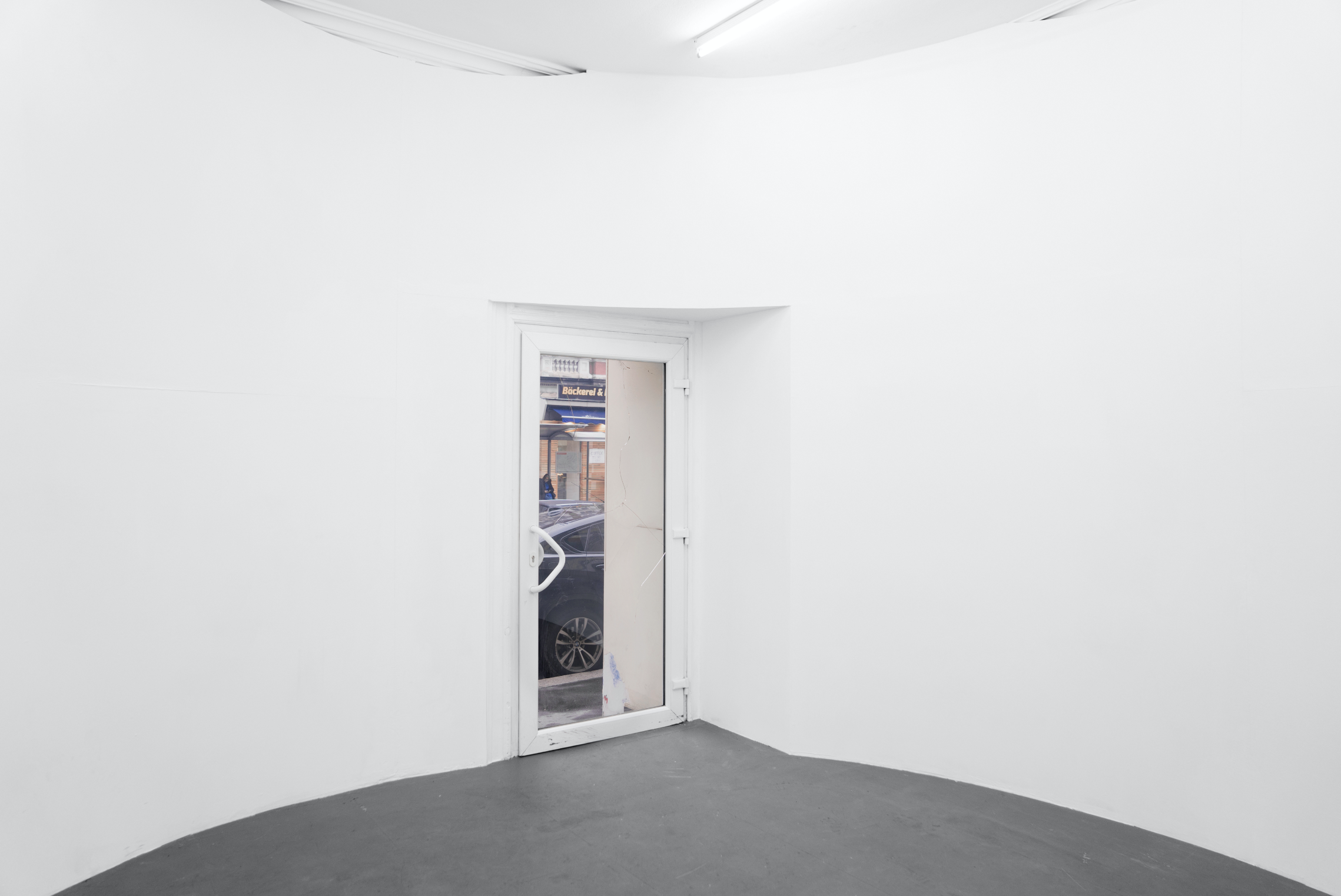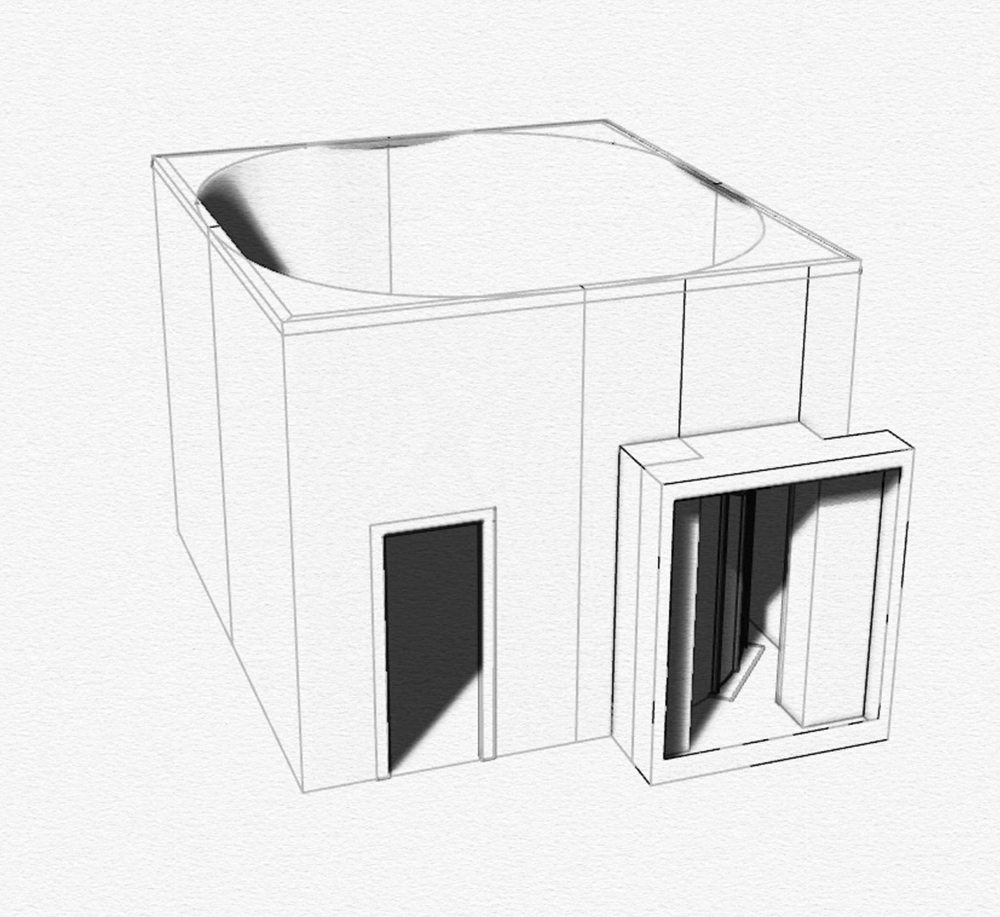 For the exhibition Coins, Eggs and Pills artists Lucia Elena Průša and Dan Vogt have transformed Gärtnergasse into a round room. They have replaced all the corners by one continuous curve. A closed curve can take three different shapes.

Průša and Vogt have created a large-scale sculpture that encompasses the entire exhibition space. They have worked collaboratively to create a place free of corners, expanded as much as physically possible for its container of origin. Its fullness is visible through the cracks between exterior and interior—windows and door frames. The persistence and stubbornness of the curve called for the closing off of the path to the back rooms of Gärtnergasse. The only remaining way to access these is through a short detour out of the exhibition space, past the parking lot and into the building's back entrance. The separation of the rooms is further pronounced with the vague and indistinct voices coming from the opposite rooms, serving as a subdued live audio element of the exhibition. The glimpses to the back of the sculpture reveal small slices of the negative space—which isn't always physically accessible—serving as a counteract to the undisrupted elypse stretched out in the main exhibition space. It's these inaccessible nooks and crannies that run this machine, you know.

The circle as a form is often used to imply or introduce a more democratic aspect to group dynamics and leadership (think of sitting in circles as an alternative to frontal lectures, AA meetings and help groups, round tables, or the fact that if I wanted to hold hands with Průša and Vogt at the same time we would have to form a circle). This work is inherently concerned with people, their movements, their spatial presence and absence and finally—with just how used to corners we all actually are.

— text by Julija Zaharijević

exhibition text (english)


––
ZAHN–AUGE–FUSS–Kindheit–Teenager–Baby–Senior–Junior–Dame–Herr–KNIE–BRUST–ARSCH–ARSCHLOCH–DARM–UTERUS–Mutter–Vater–Haare
Pina, Vienna, Austria (solo show)
29.06. – 20.07.2018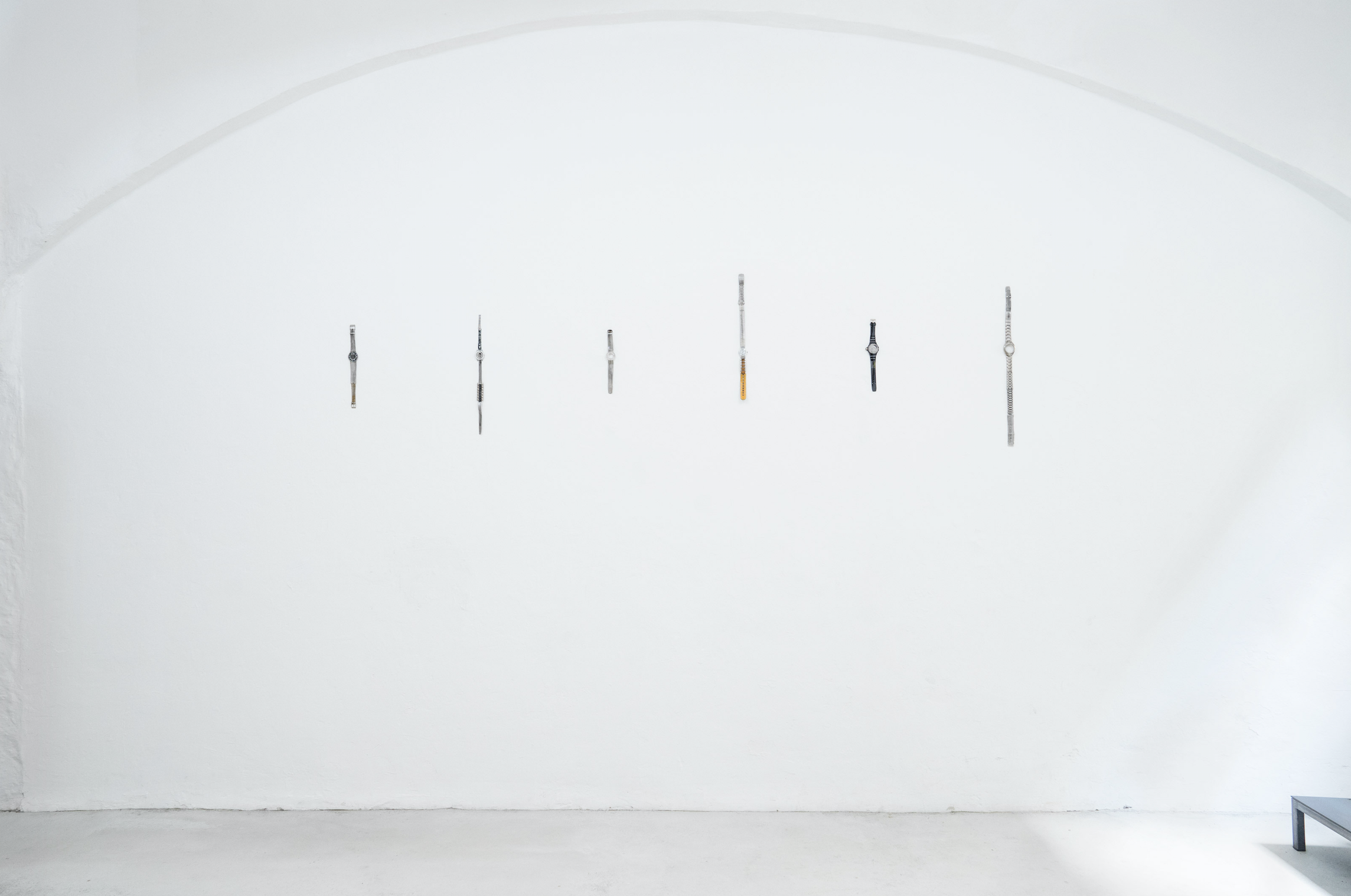 Cycle, 2018
aluminium, steel, rubber, plastic, UV-print
145 x 85 x 60 cm

Elliptical Attention Spans

Maybe every cyclical movement exists twice. Maybe every cycle is linked to a cycle of attention. Consider the moon, embodiment of everything that runs in cycles: night after night seen from earth, its appearance changes, almost unnoticed, following the same stoic rhythm every month. Think of how it is steadily waxing or waning. The lunar cycle: a perfect circular motion. This however is not how we, the ones observing the moon, perceive it. For us, it is a movement towards "fullness" and towards an "eclipse". Usually we only take notice of earth's natural satellite during full moon or new moon, that is when it is round like a circle up there in the sky or when it is, quite literally, conspicuous by its absence. During the days leading up to those events it seems like the entire motion is sped up: It is "just" two more days, "just" one more day until the night of the full moon. Even though the cycle itself does not change, something is changing for us. This second cycle of our perception looks like somebody kicked its spokes, the wheel is buckled, it wobbles – as an ellipse it overlays its sturdy, rotund older brother.

An ellipse too is a circle, if you think of a circle as a line that has no start and no end but performs the same motion over and over again. Unlike the perfect circle, though, the ellipse has two opposing poles. It is a clinched, drawn-out circle: The ellipse is a circle with an identifiable beginning and end, for there are two points that immediately catch the eye. These two poles are salient, a word that is much more common in the English or French language than in German and simply means that something is by its very nature outstanding and worth the remark.Would we even notice a cycle that has no salience and therefore does not present itself as an ellipse? Would we even understand that something recurs with a certain frequency if we did not have such points of reference? One merely has to determine which one of the poles marks the beginning and which one the end. A question that, regarding a cycle, does not carry much weight. The female cycle, it has been decided, starts with the first day of the monthly period – no other day is better suited to the beginning of the count, even though the life cycle of an egg cell actually comes to an end on that day.

text by Birthe Mühlhoff

exhibition text PDF (german)
exhibithion text PDF (english)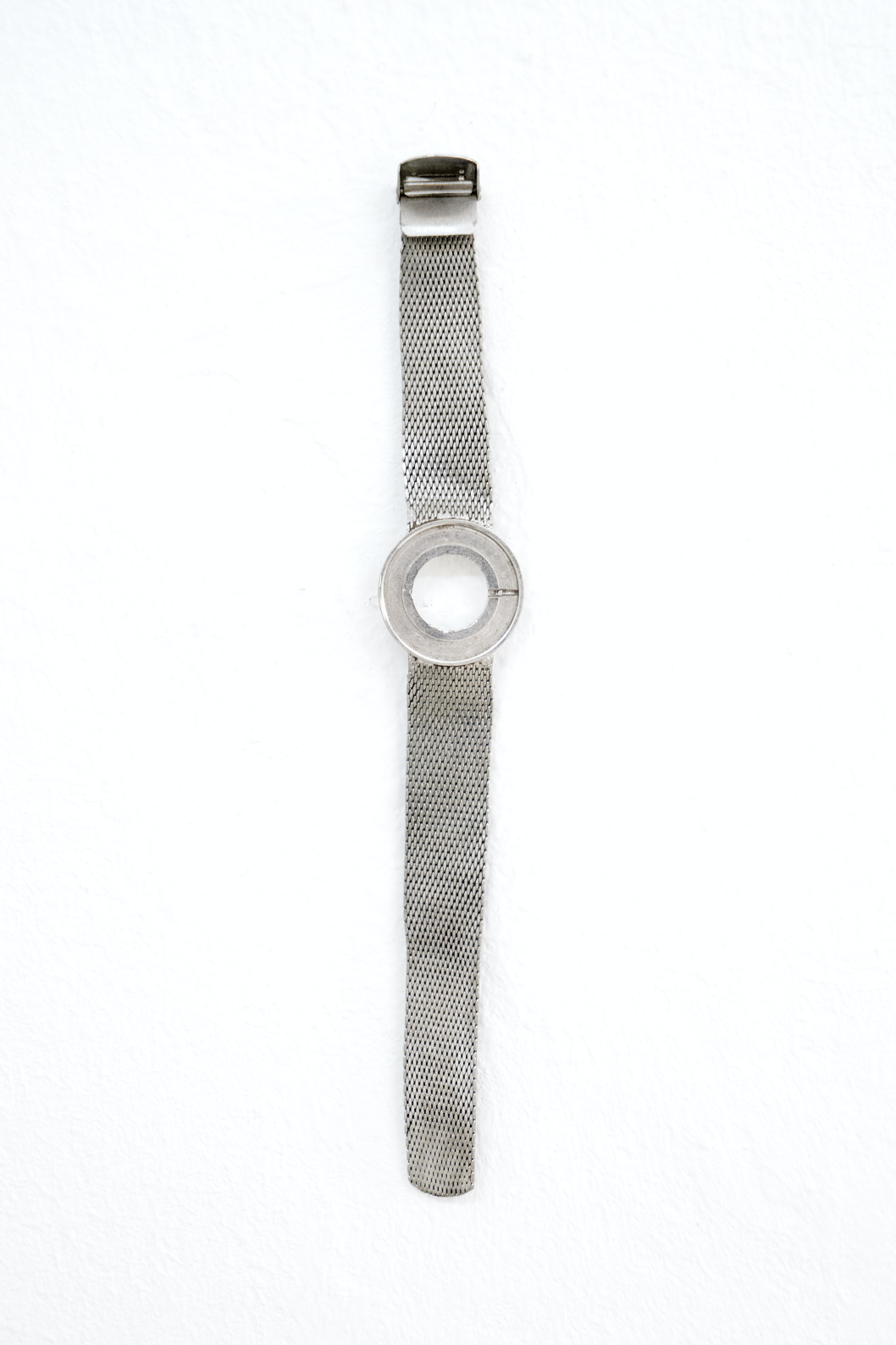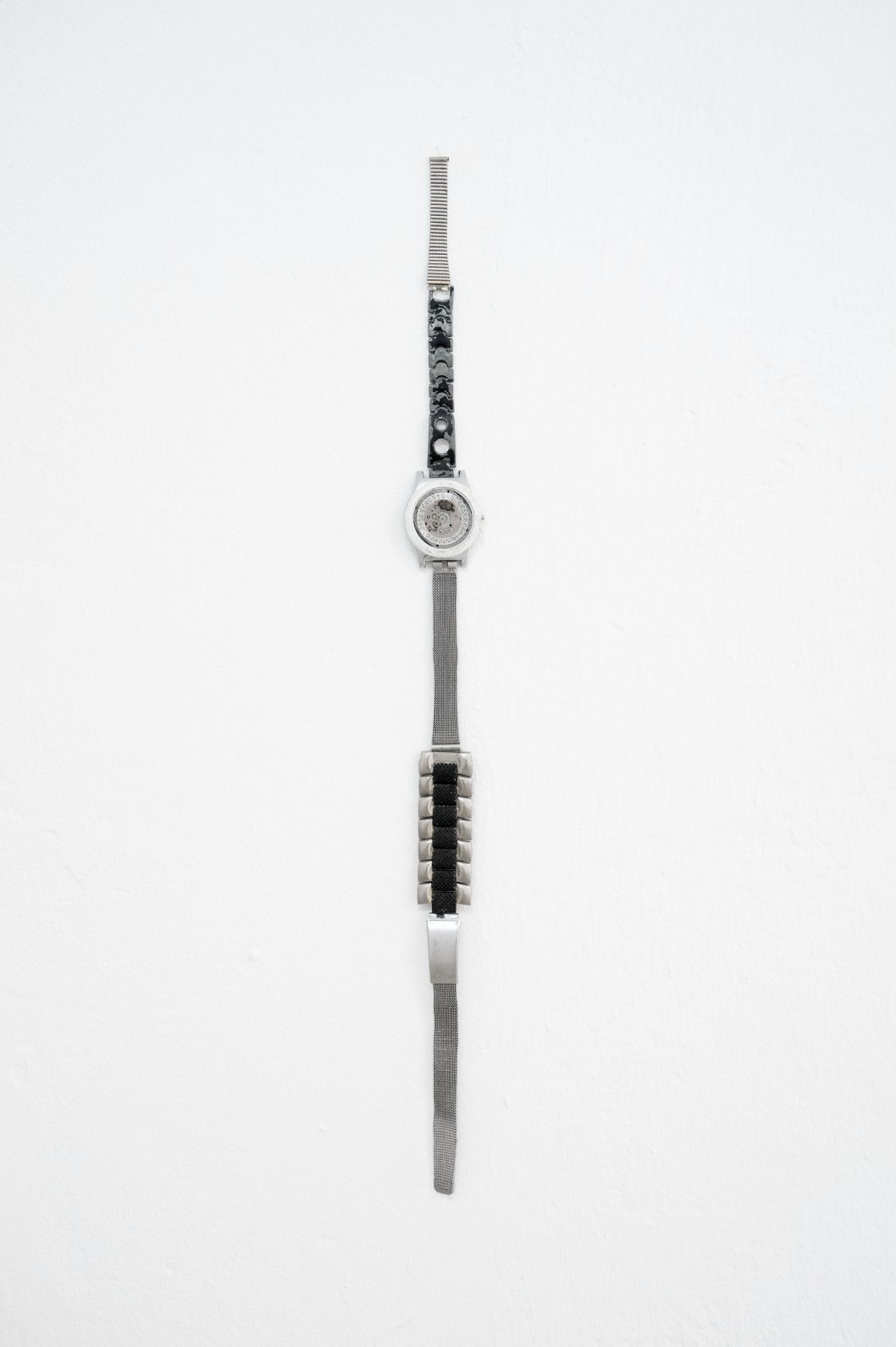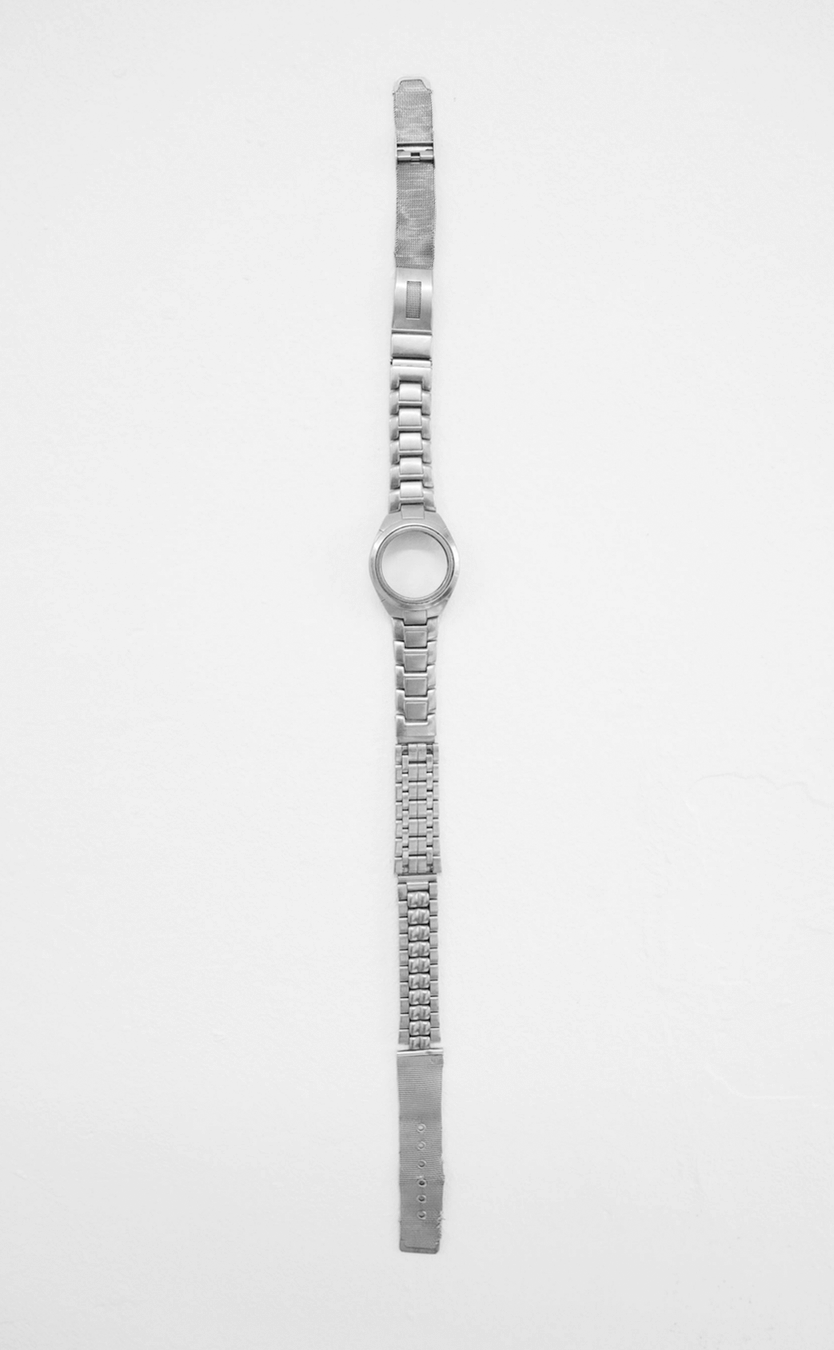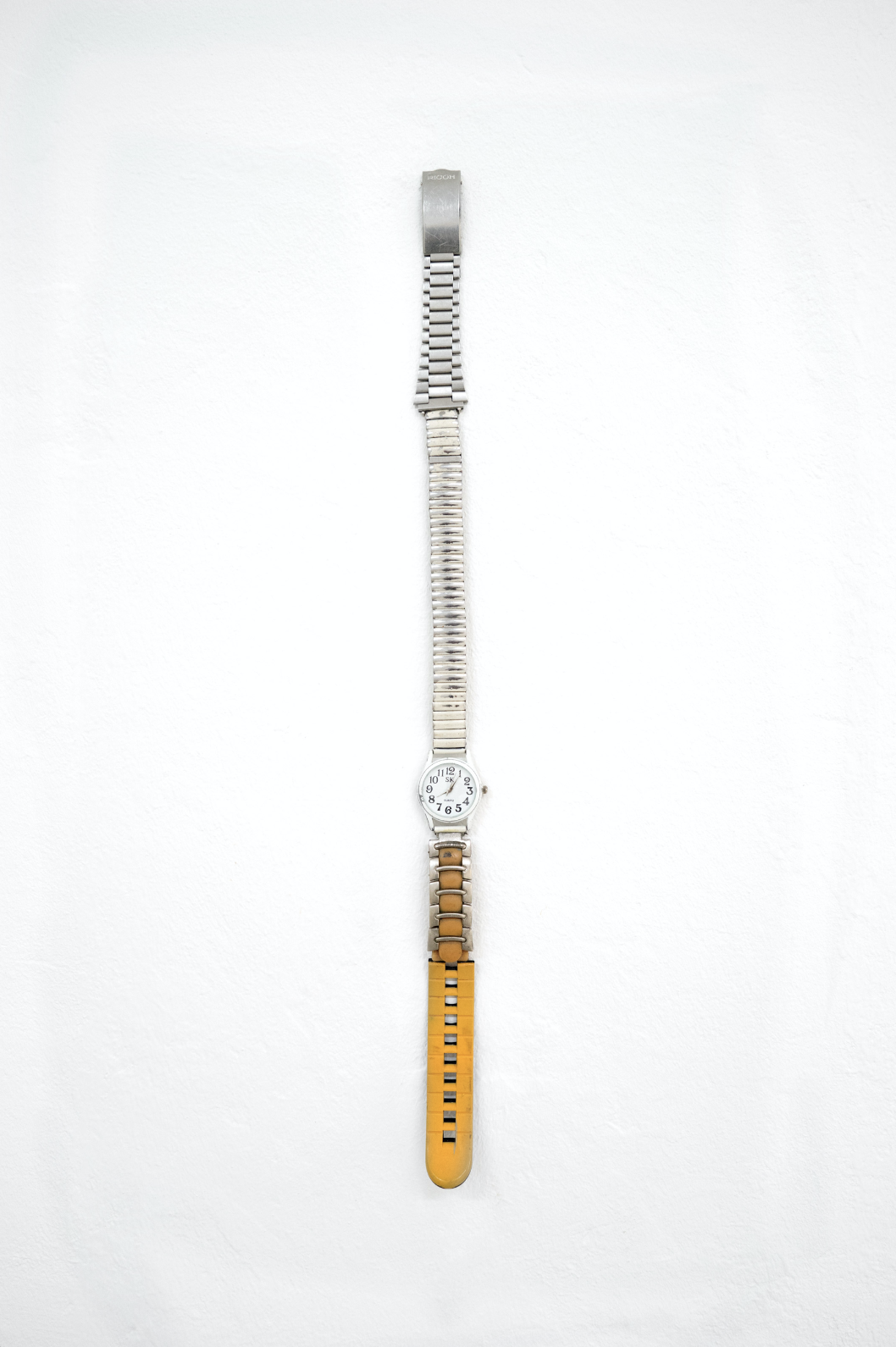 Reality Check, 2018
metals
4 x 29 x 0,5 cm

Adore Your Cycle, 2018
aluminium
3,5 x 21,5 x 0,5 cm

Crazy Clown Time, 2018
metals, plastic
3,5 x 41 x 1 cm

Body Party, 2018
metals
4 x 54 x 1 cm

Steinzeit, 2018
plastic, metal
4,5 x 24,5 x 0,5 cm

Sexy Time, 2018
glass, metals, plastic
3 x 43,5 x 1 cm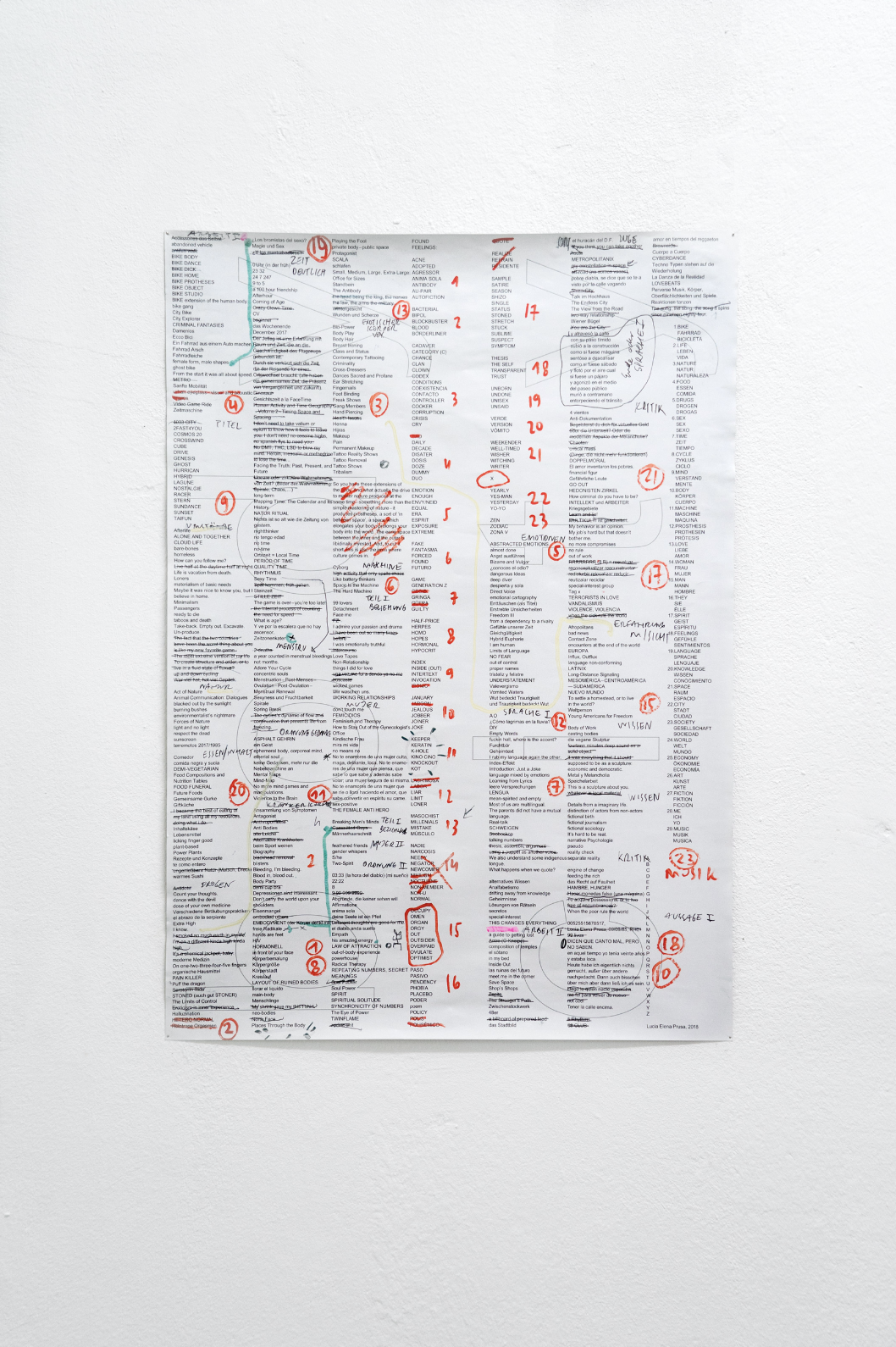 Found Feelings read by Diana Barbosa Gil at the opening
––
Dream'n Wild
ALASKA Projects, Sydney, Australia
21. 07. – 3.08.2018
with Minda Andren, Battle Ax (Beatrix Curran), Andy Boot, Bonita Bub, Conuelo Cavaniglia, Marita Fraser, Jennifer Gerlardo, Manuel Gorkiewicz, Sonia Leimer, Angelika Loderer, Christian Kosmas Mayer,
Jonny Niesche, Nick Oberthaler, Flavio Palasciano, Lucia Elena Průša, Franz West, Heimo Zobernig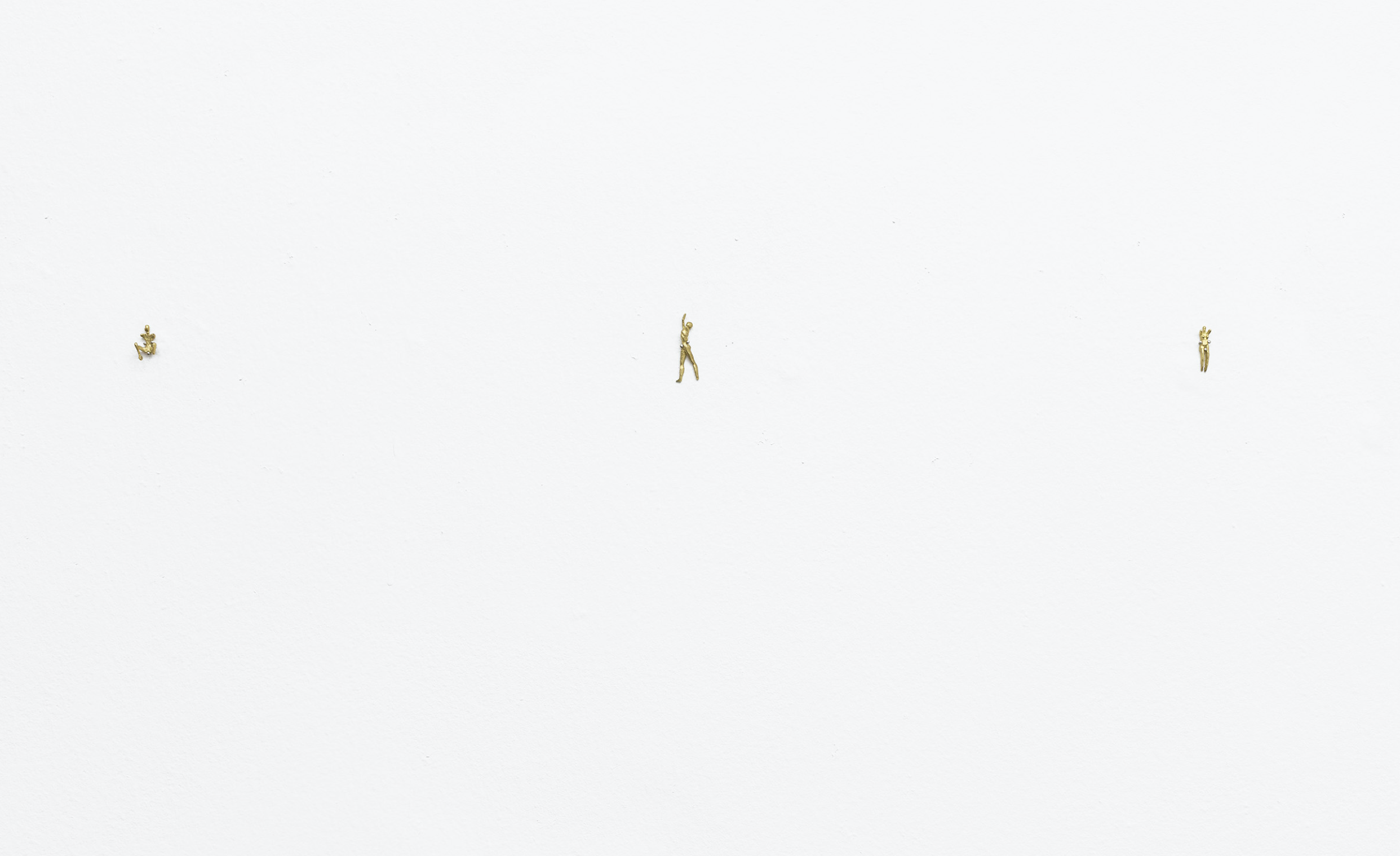 Antibody, 2017
bronze cast
1 x 1,5 x 0,5 cm
––
How To Wear A Face
part of CCCC, Gallery G99 at The Brno House of Arts, Brno, Czech Republic
05.2018
with Lilly Pfalzer, Jimena Mendoza, Maximiliano León, Oscar Cueto, Lucia Elena Průša, Luna Ghisetti, Daniel Hüttler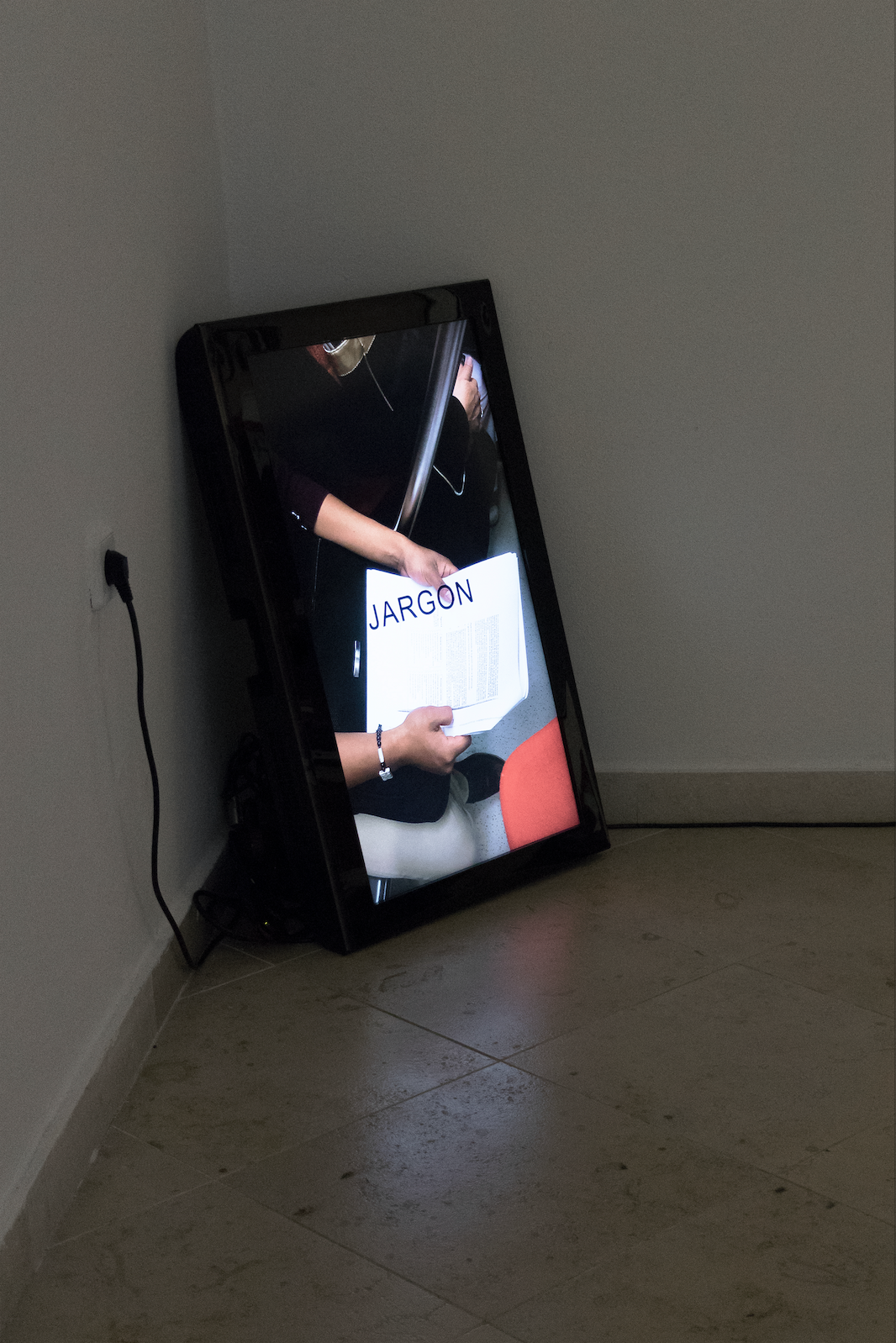 Basic Feelings, 2017
HD video 1920 x 1080 px
12:50 min
exhibition text

The Centre for Cybernetic Culture Circulation believes in the present (and future) and does not see itself as a mere rendering of past events, nonetheless its program is following a given line of historical milestones upon which it refers. 1968 echoes in the CCCC´s mind more than any other of the years that it had to take in count before. We can speak of an international movement that seeked to transform the ongoing propagation of violence. Such movement found uncountable opponents all around the world that were defeated by an ever deepening sense of togetherness and international solidarity. For this case the CCCC prepared a curated exhibition in the Gallery G99 at the Dum Umeni Mesta Brno; an exhibition featuring artists that have a marked and notorious international focus pivoting from the geopolitical entity we call Mexico. Each of the artists have a different relationship towards the country in question but exhibiting their works here, in Brno can give us a glimpse into the "bigger window" of what solidarity and resistance might have to mean today.

text by Daniel Hüttler
––
Bottoms Up!
Fluc, Vienna, Austria
14.03.2018
with Clegg & Guttmann, Julian Göthe, Christina Gruber & Clemens Schneider, Michele di Menna, Fernando Mesquita, Michael Part, Lucia Elena Průša, Marina Sula
I cooked cocoa from Chiapas, with cinnamon, chili and hot water.
Preparé un cacao de Chiapas, con canela, chile y agua caliente.
––
Body City
Academy of Fine Arts Vienna, Austria (solo show)
01.2018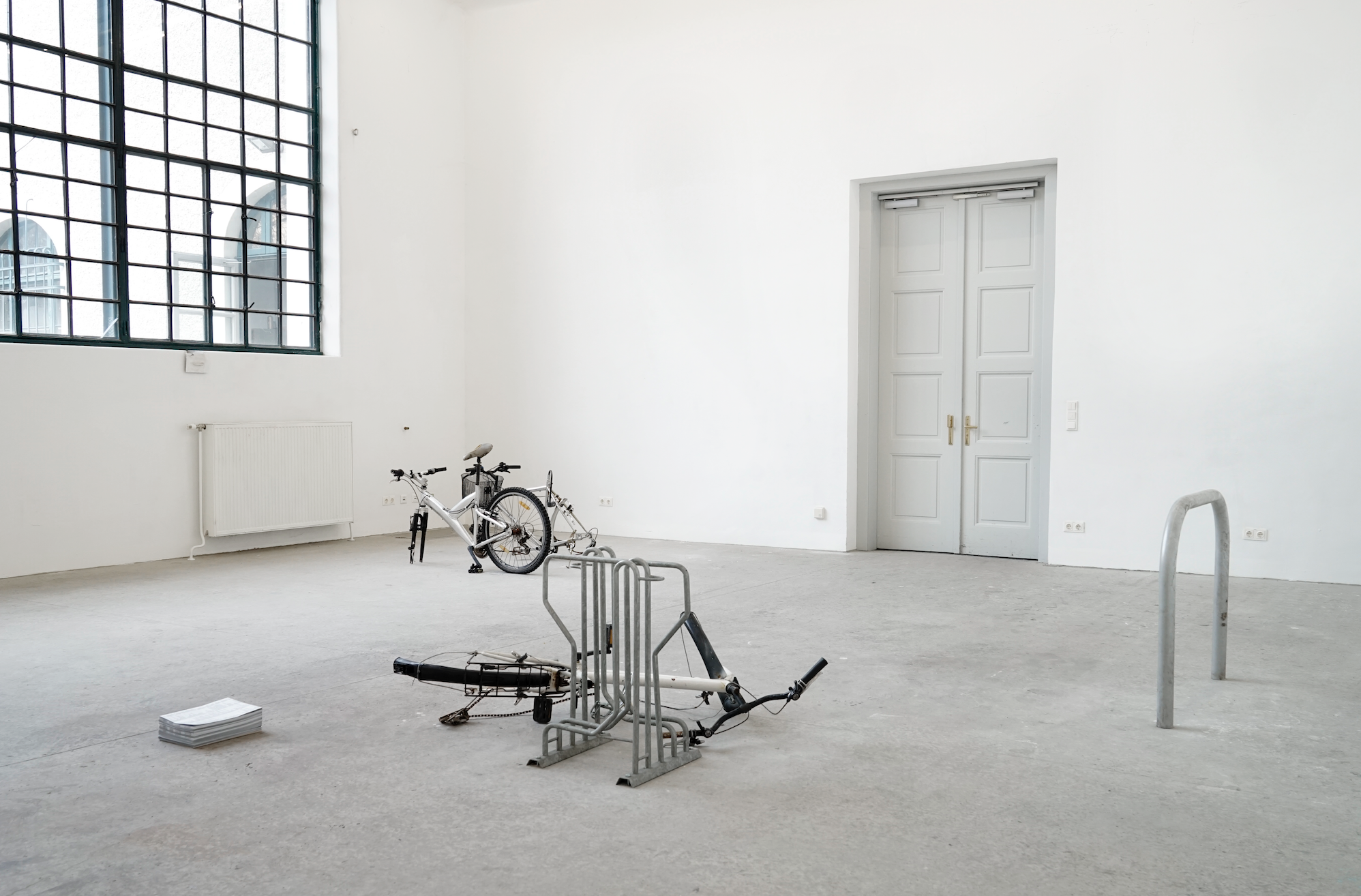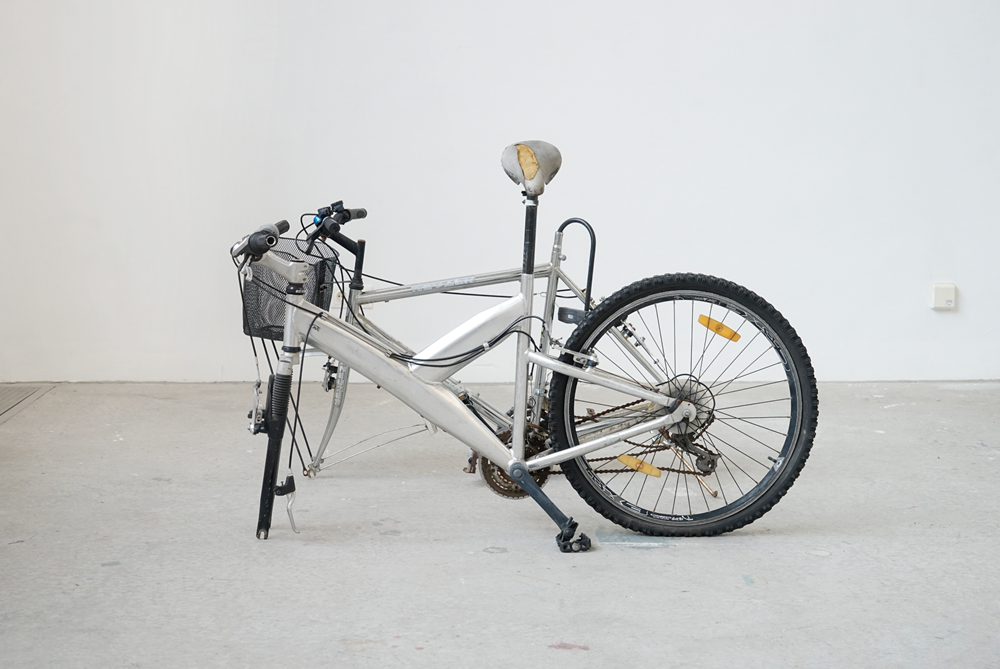 BODY CITY text PDF (german)
BODY CITY text PDF (english)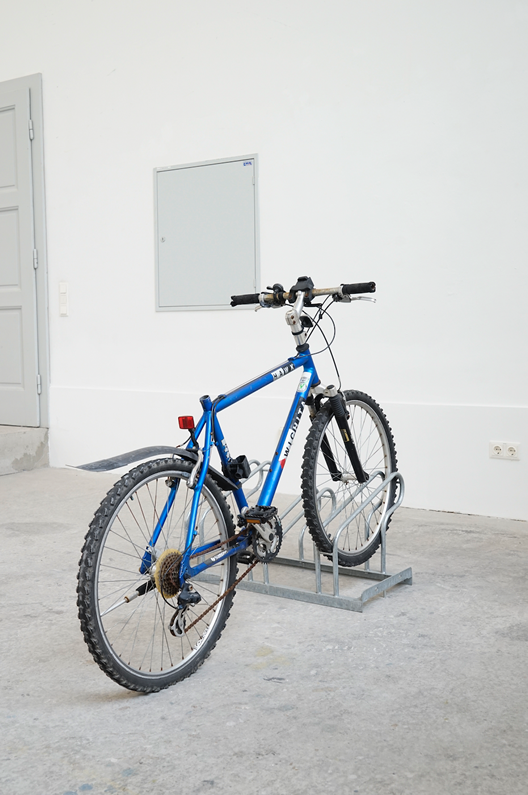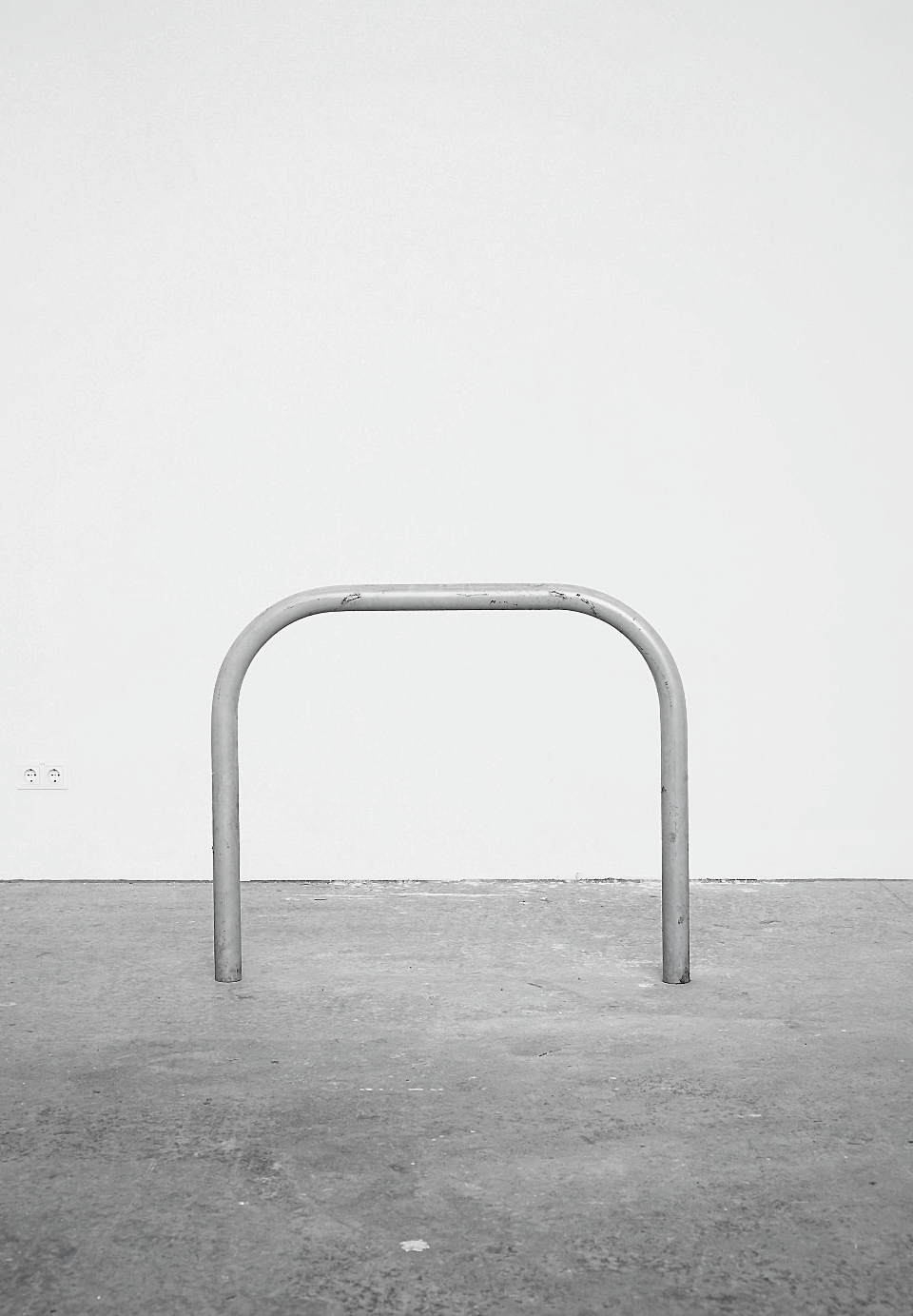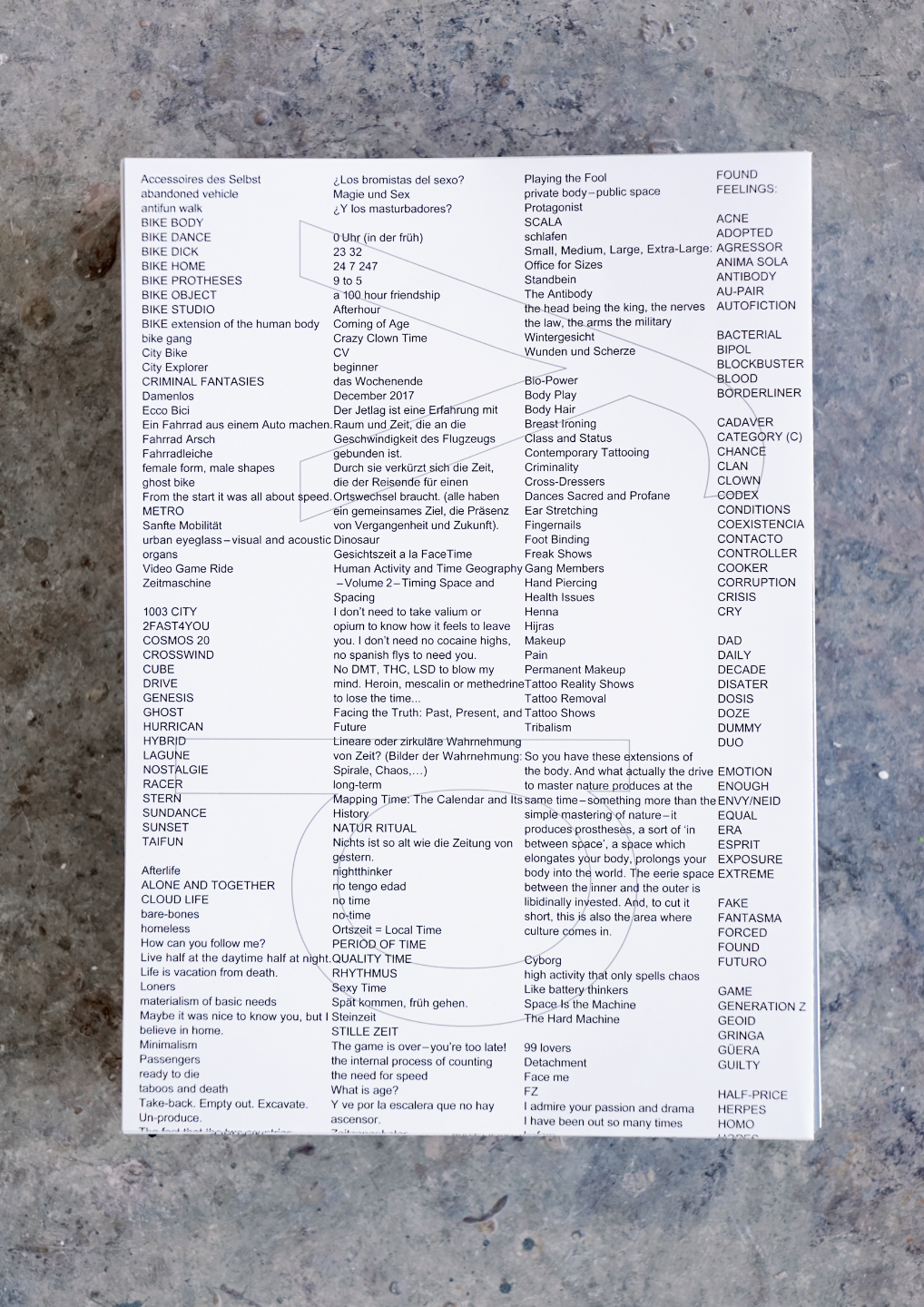 TEXTPIECE PDF
Begriffe sind wie Fahrradgriffe.
––
Uniform, 2017
new destroyed collection
casted of collected aluminum cans from México City
diverse sizes
––
WhyWhyWhy, OBRERA, México City, México
with Allan Villavicencio, Israel Urmeer, Jose Eduardo Barajas, Diego Gamaliel, Abraham González Pacheco, Ana Segovia, Guillermo Rosas, Lourdes Martinez, Pablo Cendejas, Karla Kaplun, Carlos Martinez, Lucia Elena Průša,
Christian Camacho, Lucia Vidales, Victoire Barbot, Gwladys Alonzo, Clemence Seilles, Diego Salvador Rios, Maximiliano León, Yaol Bruin, Lisa Giordano, Todolotratocontigonohayerror, Keke Vilabelda, Matias Solar
21.07. – 06.08.2017
video


performance by Lucia Elena Prusa and Krapoola

––

A Coney Island of the Mind
Riverside, Switzerland
with Erin Dunn, Gritli Faulhaber, Chantal Kaufmann, Corinna Münster, Lucia Elena Průša, Andreas Walser, Andrew Norman Wilson
21.05. – 24.06.2017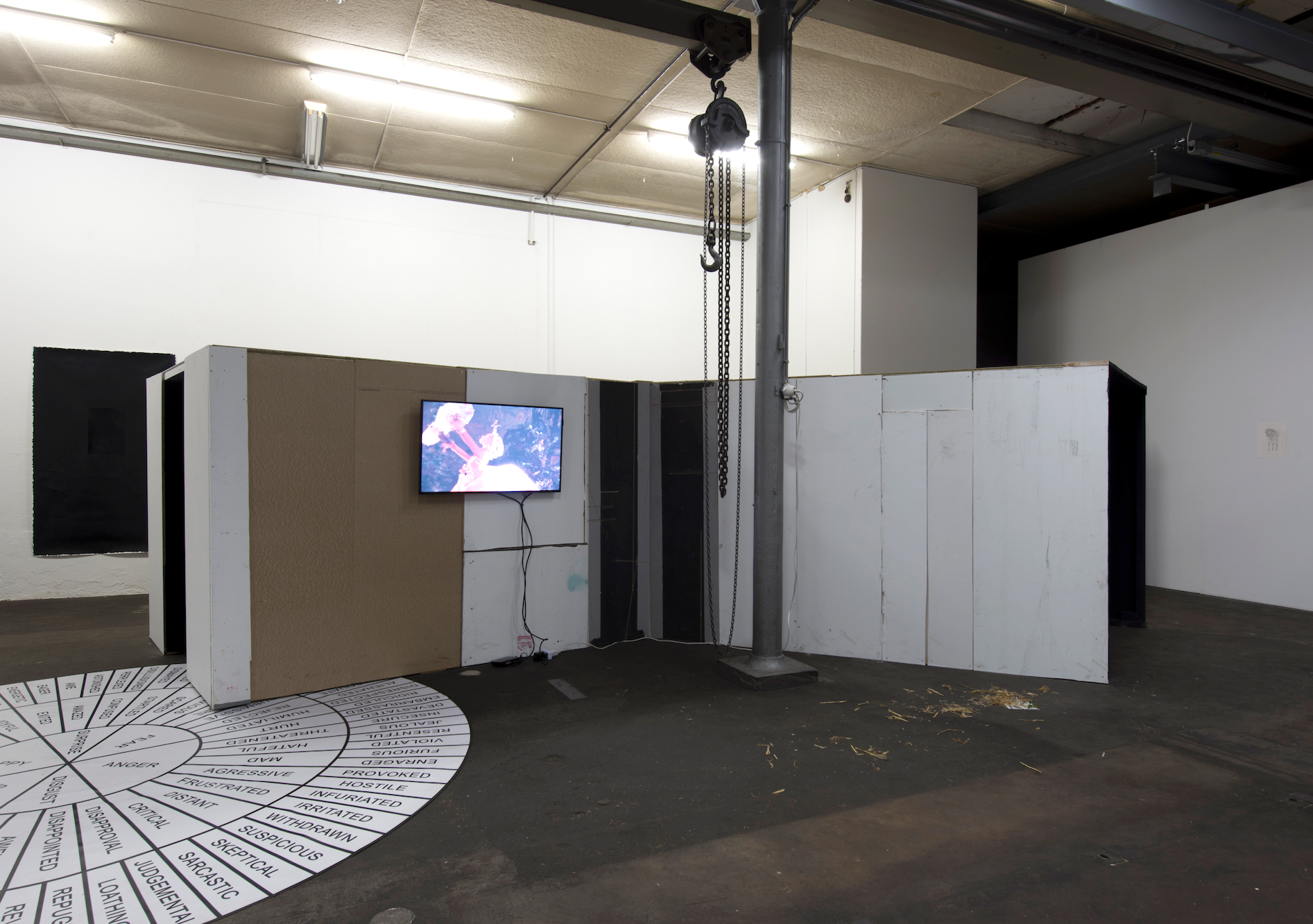 Gefühlschaos (Feeling Wheel), 2017
different woods, dispersion paint, UV printing on PVC
1.74 m x 6.70 m x 4.2 m, diameter 3.15 m
––
To figure it out
Galerie Sophie Tappeiner, Vienna, Austria
with Anna-Sophie Berger, Spencer Chalk-Levy, Gina Folly, Kiki Kogelnik, Angelika Loderer, Lucia Elena Průša, Liesl Raff, Sophie Reinhold, Sophie Thun, Jala Wahid and Vally Wieselthier
20.05 – 29.7.2017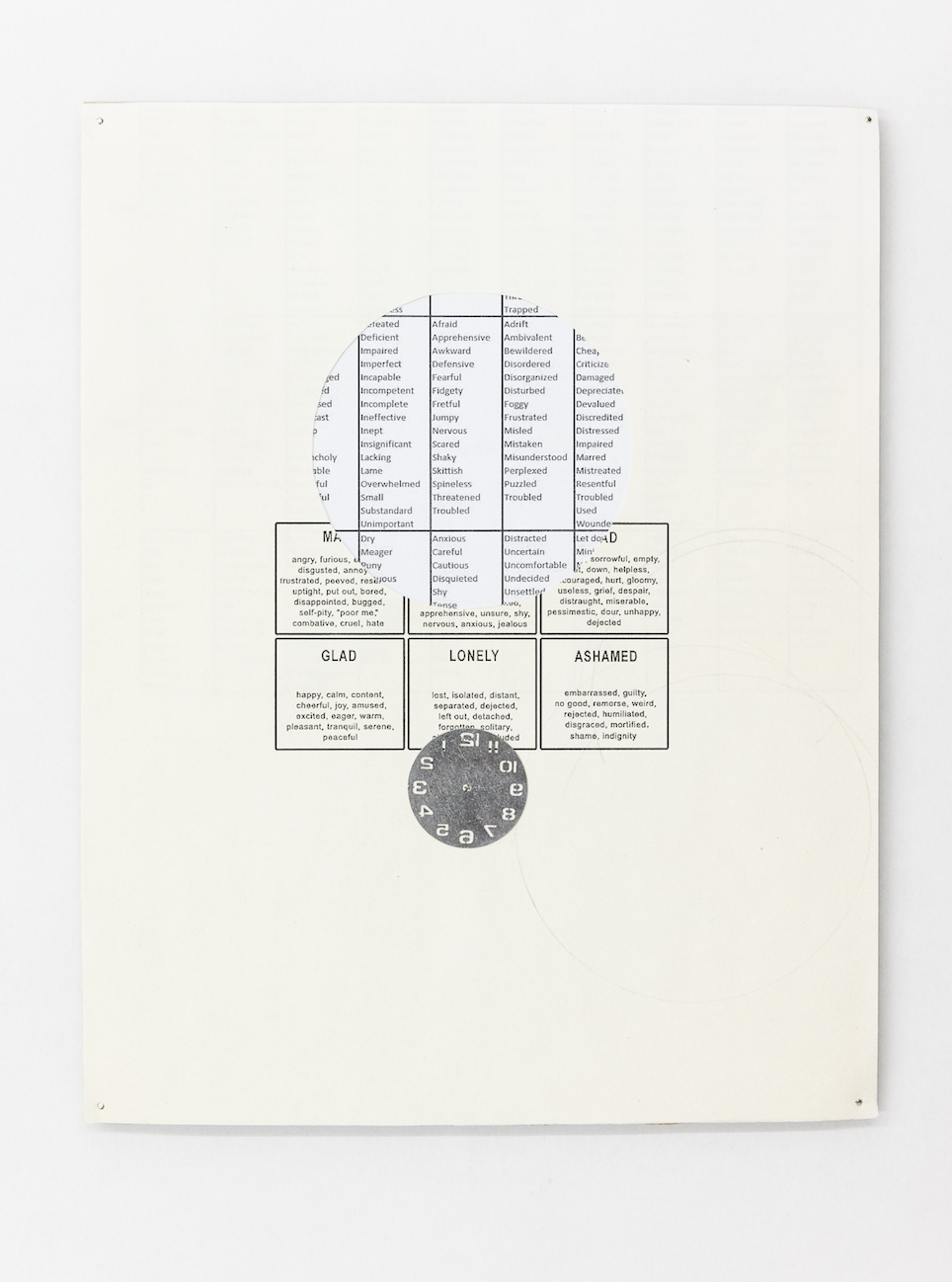 feeling collection (well-timed), 2017
laser print on paper, paint, clock-face, glass
21.5 x 33,3 cm
feeling collection (kochend vor Wut), 2017
laser print on paper, paint, clock-face, glass
21,2 x 23,8 cm
feeling collection (unimportant), 2017
laser print on paper, paint, clock-face, glass
21,2 x 27,1 cm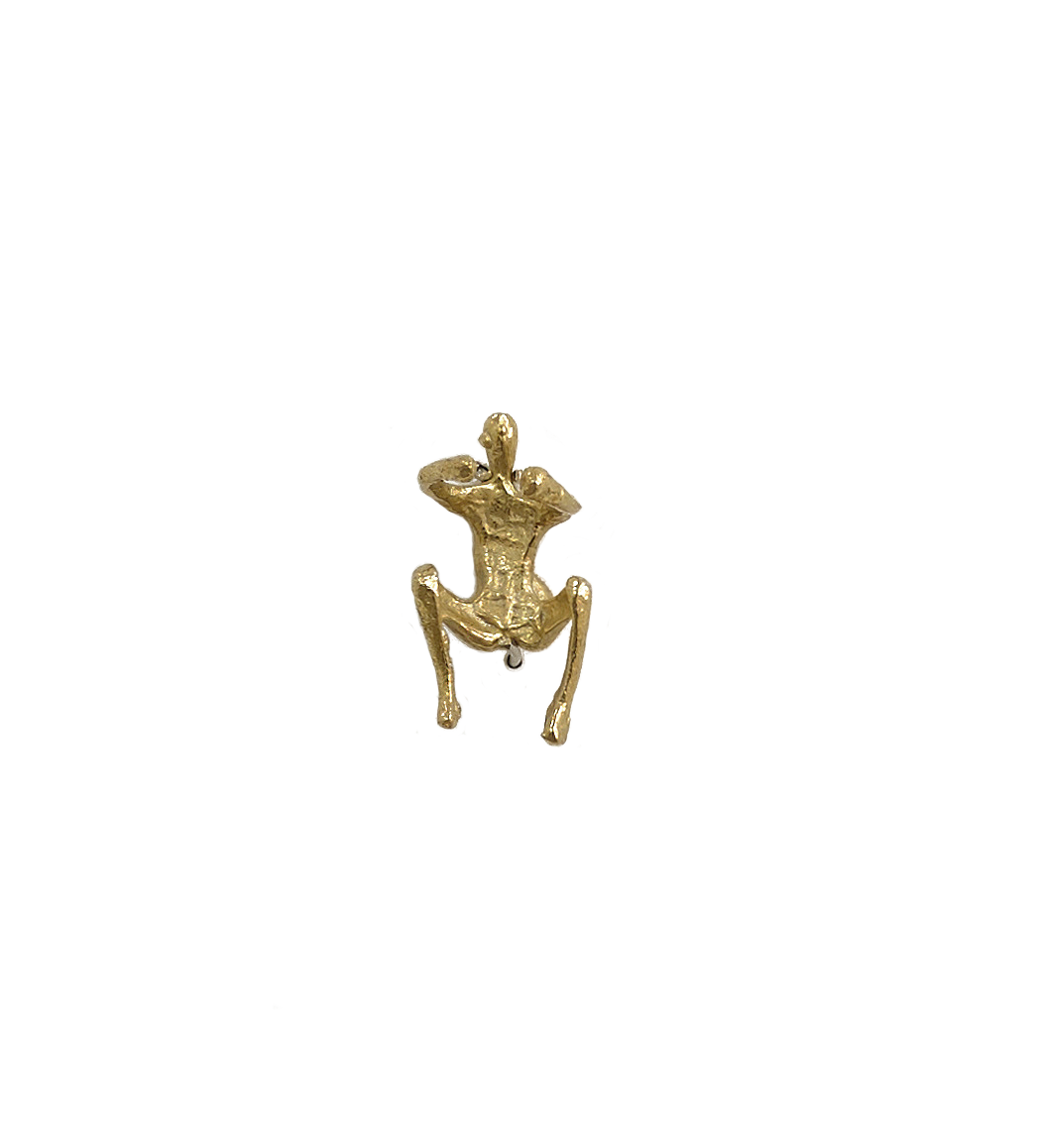 Antibody, 2017
bronze cast
1 x 1,5 x 0,5 cm
––
Decolonizing Tridimensionality
AMOR, Tlapan, México City, México
with Wendy Cabrera Rubio, Paloma Contreras, Carla Lamoyi, Irak Morales, Lucia Elena Průša, Madeline Jiménez, Lucia Vidales, Diego Salvador Rios, Marek Wolfryd, Pamela Zeferino
15.04 – 18.04.2017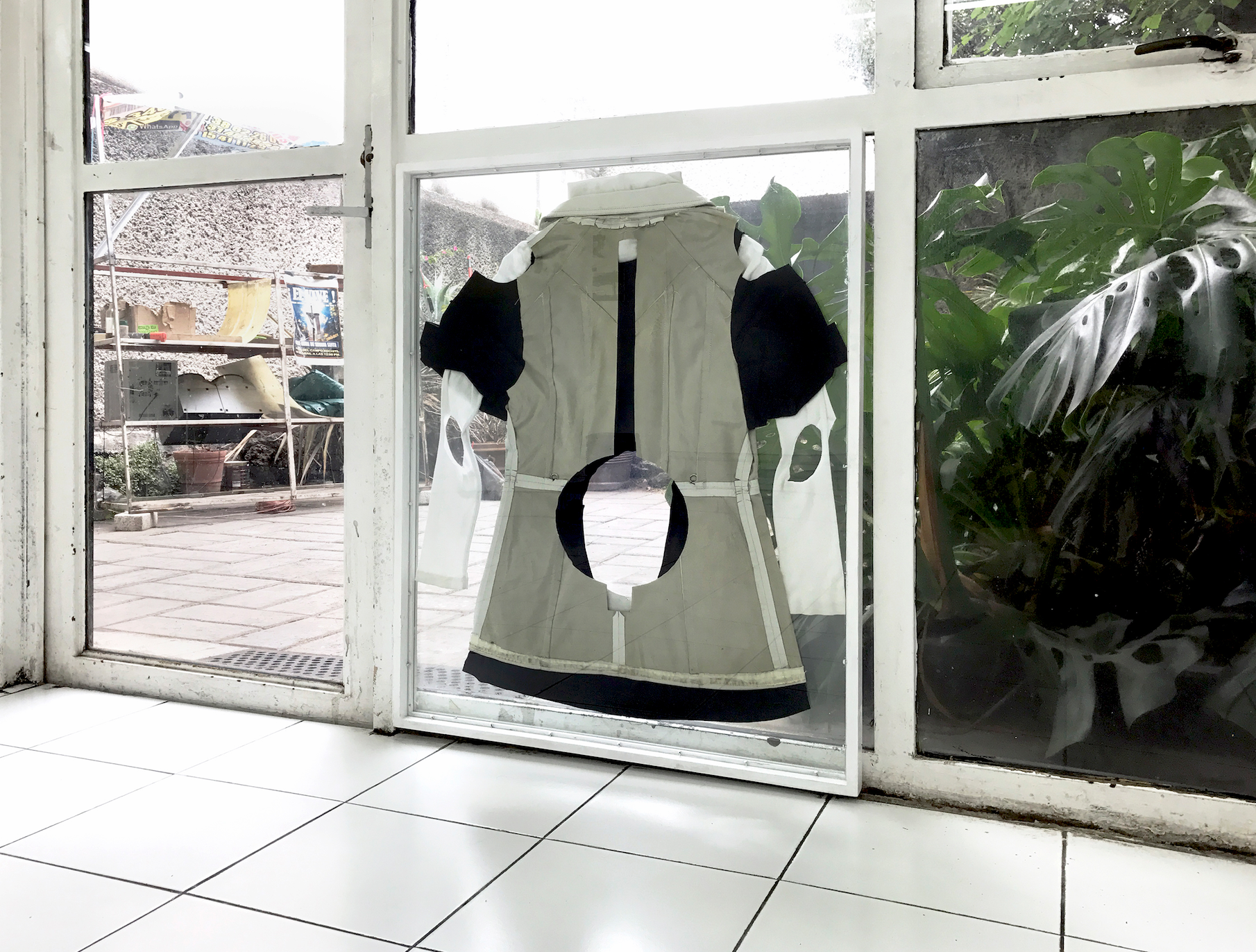 blood in blood out, 2017
cotton, leather, glass, wood
74 x 94 x 5 cm
––
ANTIBODY
Travesia Cuatro Galeria, Guadalajara, México (solo show)
24.2 – 13.05.2017
ANTIBODY rejects the body as the only scenario for emotional activity. Feelings have been understood as bodily-contained energy, in the form of fluids in ancient times, and nowadays as neuropsychic reactions. In this conception moods are treated as perfectly distinguishable regions and function within predictable patterns, this enables the clinical understanding of the human emotional behavior.
In this exhibition Lucia Elena Prusa takes alternative and peripheral routes to approach human emotions, arguing that they can subsist outside the human body as conditions. Feelings can be spatialized and be shared as a collective field. In this perspective feelings become less distinguishable and behave as unstable phenomena, they can persist throughout a whole epoch or last for a few seconds. Urban environments can host an infinite amount of emotional locations; some of them can be inhabited by a small group of people or be shared by entire populations. The German phenomenologist Hermann Schmitz argues that there is an intrinsic relationship between emotional atmospheres and the felt body, this proposes a non- mentalistic conception of feelings, and accepts the possibility that interpersonal interaction can manifest itself materially, clinging to objects and as sensitive experience.
With ANTIBODY Lucia Elena Prusa follows this non-mentalistic detour and engages with a speculative and poetic sociology. The artist book Basic Feelings contains an alphabetic classification system of the different emotional conditions that Prusa collected in Mexico City, so called "found feelings". The book is a compilation of photos of gestures, body postures, facial expressions, moments of physical contact, daily needs, gazes that suggest the existence of a sensitive common ground that has been revealed in the form of brief glimpses. This work is opposed to the sculpture titled Feeling Wheel, which includes the standard classification of emotions used by modern psychology; emotions here are bounded by a simple dialectical relationship (positive–negative / simple-complex). Feelings cannot be treated as immutable trajectories or pre-established paths of experience, they are subjected to constant change and displace freely between the realms of subjectivity and objectivity. As Schmitz affirms "all affective involvement is Janus-faced."
Prusa constructs precarious bodies with a group of sculptural assemblages made with found objects; human form is only referenced through the functionality of the objects. Pipes and metal tubes support different garments that have been altered; all the joints of the human body are emphasized with a series of circular cutouts, providing the sculptures with a set of possible movements and gestures. Prusa displays the felt body as an outlined presence, instead of approaching the realm of subjectivity she resorts to the material narrative of objects nourished by human sensations. In an almost comical twist a set of small-scale bronze sculptures called Antibodies are included in the exhibition, they represent miniature bodies in classical postures; the body language is immediately recognizable, and resonates with the athletic and beauty ideals portrayed in Greco- Roman sculpture. The only direct and formal depiction of the human body in the exhibition is almost unnoticeable; these Antibodies remain as icons or avatars of something that can only be attained as fragmented experience.Text by Andres Gonzalez

PRESS RELEASE TEXT
Feeling Wheel, 2017
steel, screen print on rubber
92 x 92 x 214 cm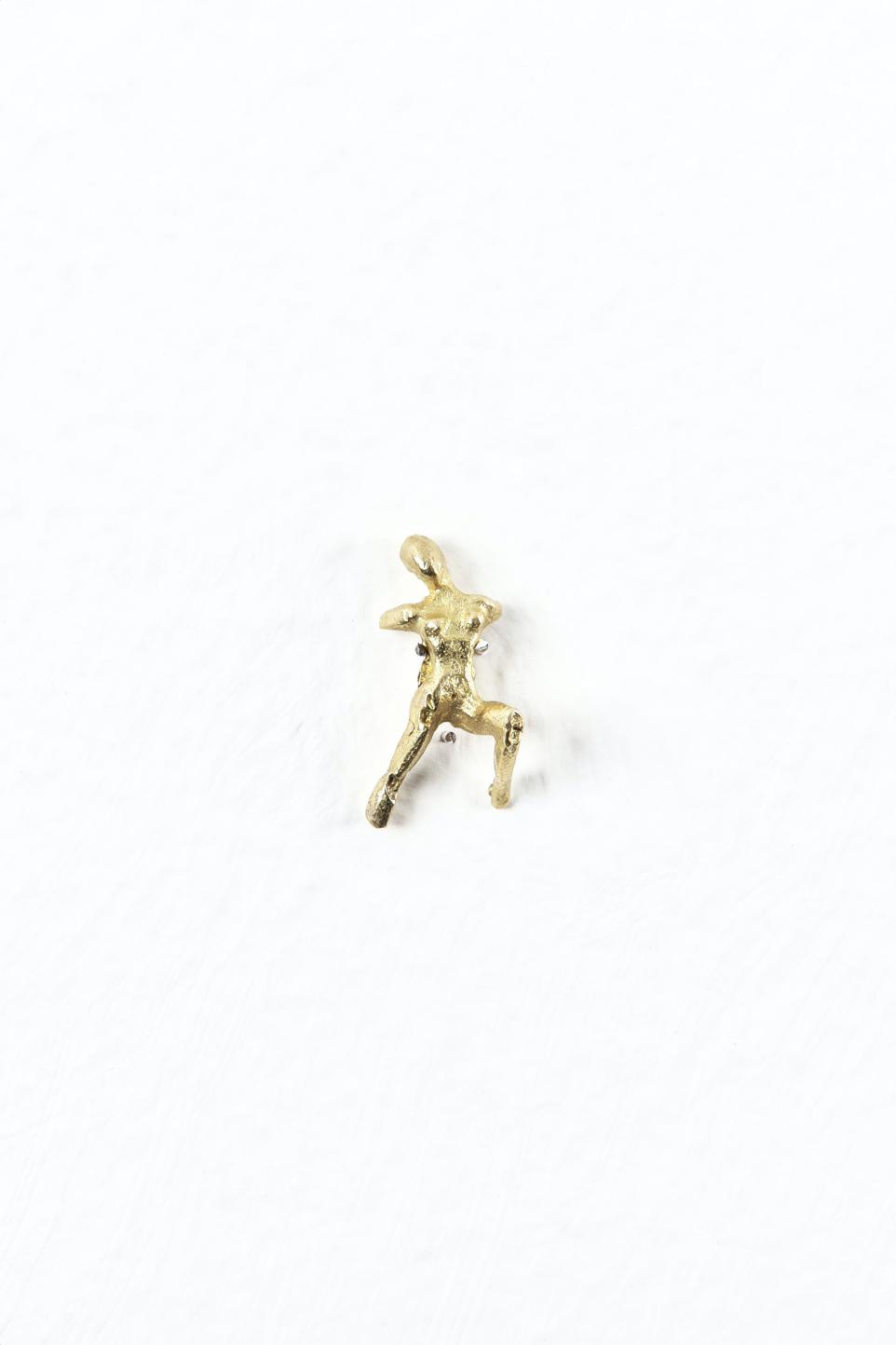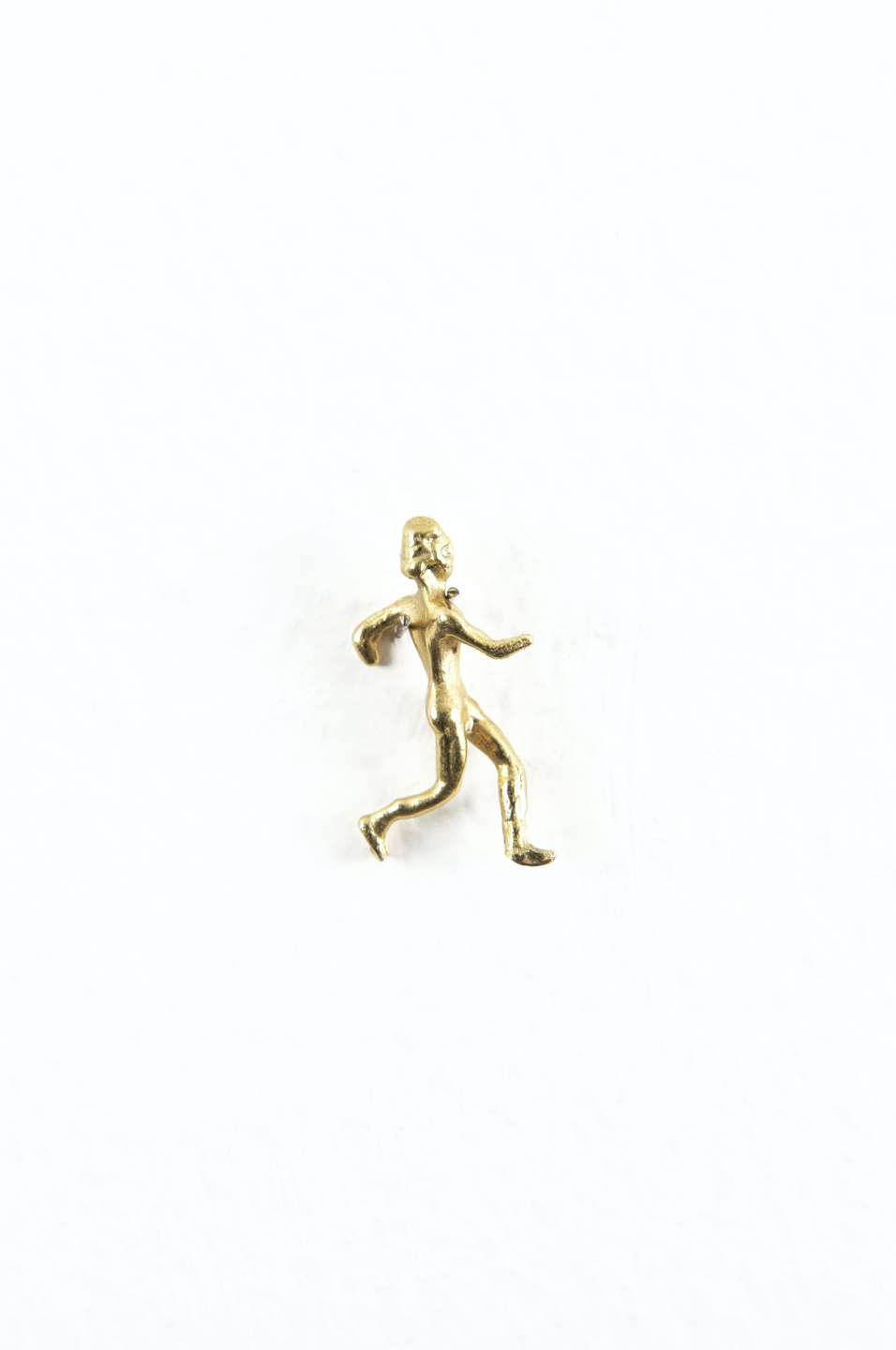 Antibody, 2017
bronze cast
1 x 1,5 x 0,5 cm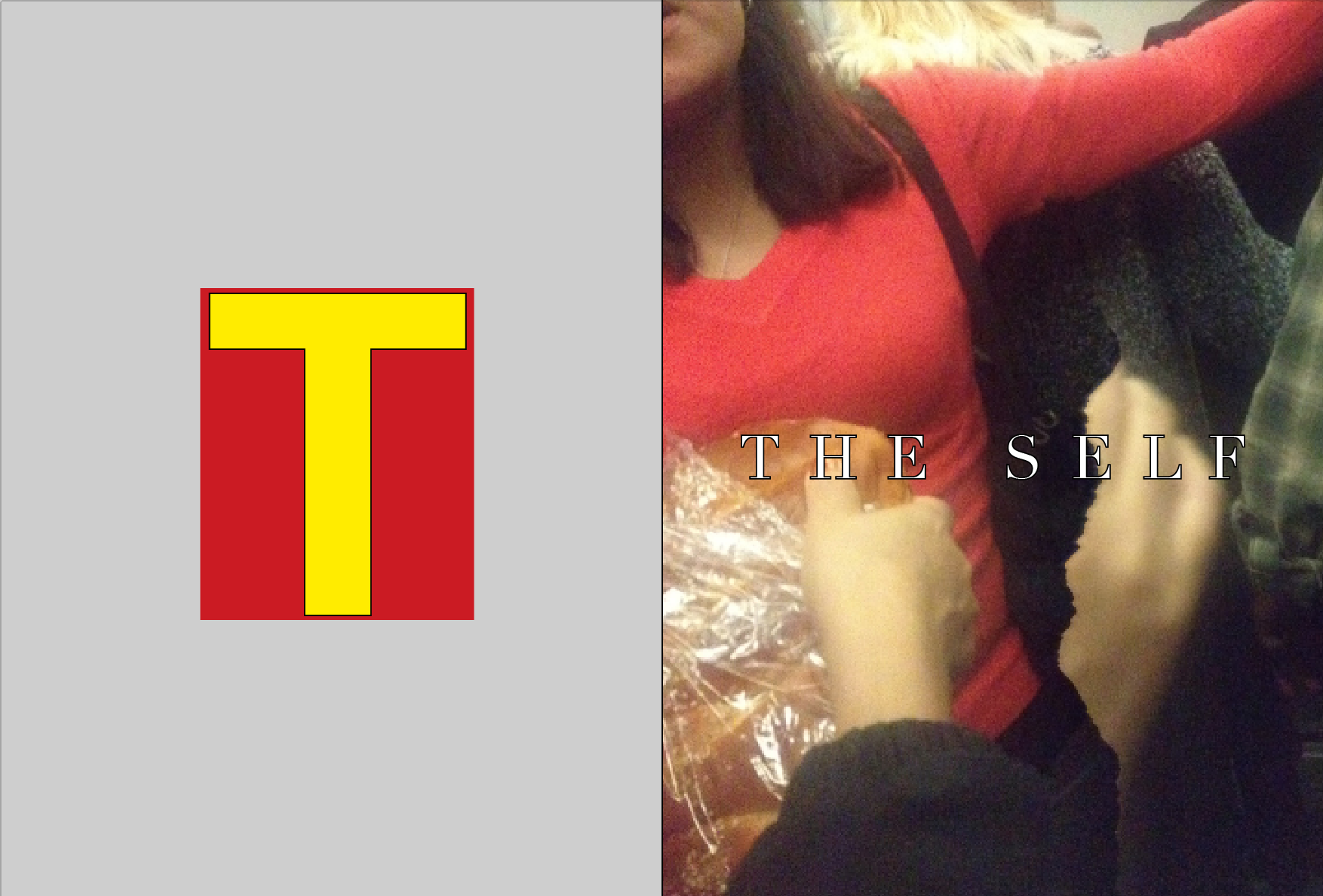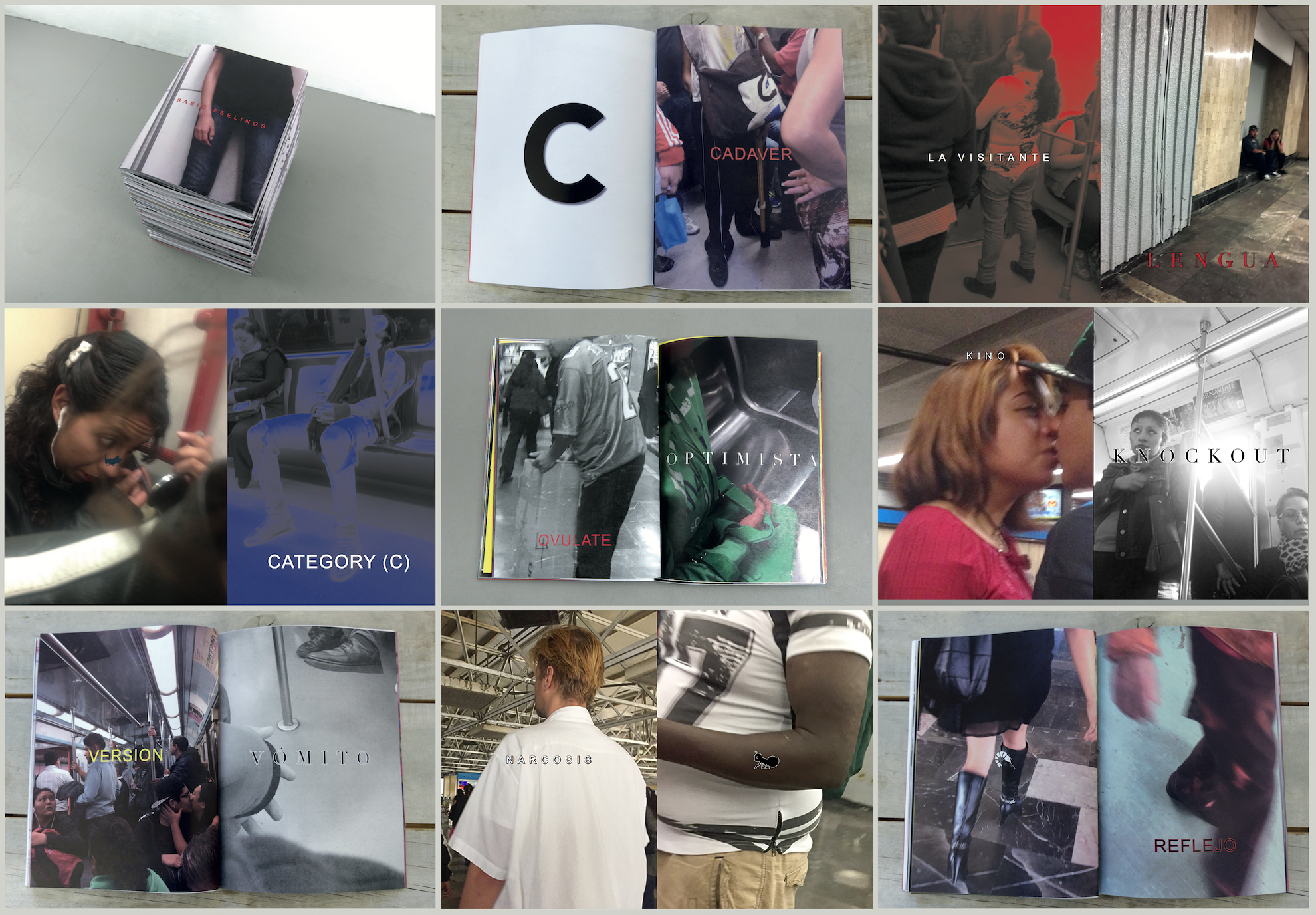 Basic Feelings, 2017
artist publication, digital print, 156 pages
23,5 x 32 cm
printed and made in Mexico

Basic Feelings is a collection of found feelings. A-Z. They have been collected according to the criteria of a democratizing poetry. Basic Feelings creates a conceptual possibility for establishing a vocabulary of sensations. It has no language. Photos were taken in the public transportation system of Mexico City. In the women-only train sometimes. Images are the result of casual encounters and are a documental approach that seeks to respect the specific context of this space. A view is always thrown back.

Basic Feelings es una colección de sentimientos encontrados. A-Z. Han sido recopilados según los criterios de una poesía democratizadora. Basic Feelings crea la posibilidad conceptual de establecer un vocabulario de sensaciones. No tiene lenguaje. Las fotos fueron tomadas en el sistema de transporte público de la Ciudad de México. En ocasiones en el tren exclusivo para mujeres. Las imágenes son el resultado de encuentros casuales y son un enfoque documental que busca respetar el contexto específico de este espacio. Una vista siempre se refleja.
Basic Feelings PDF HERE !

Newcomer, 2017
stainless steel, leather
68 x 16 x 8 cm
Loner, 2017
aluminum cast
16 x 13 x 9 cm

––
Roy Da Prince
FUTURA Centre for Contemporary Art, Prague, Czech Republic
with Quentin Euverte, Agnieszka Grodzinska, Kernel, Irina Lotarevich, Lucia Elena Prusa, Shanta Rao, Viktor Timofeev, Andrew Norman Wilson, Pedro Wirz
10.12.2016 – 12.02.2017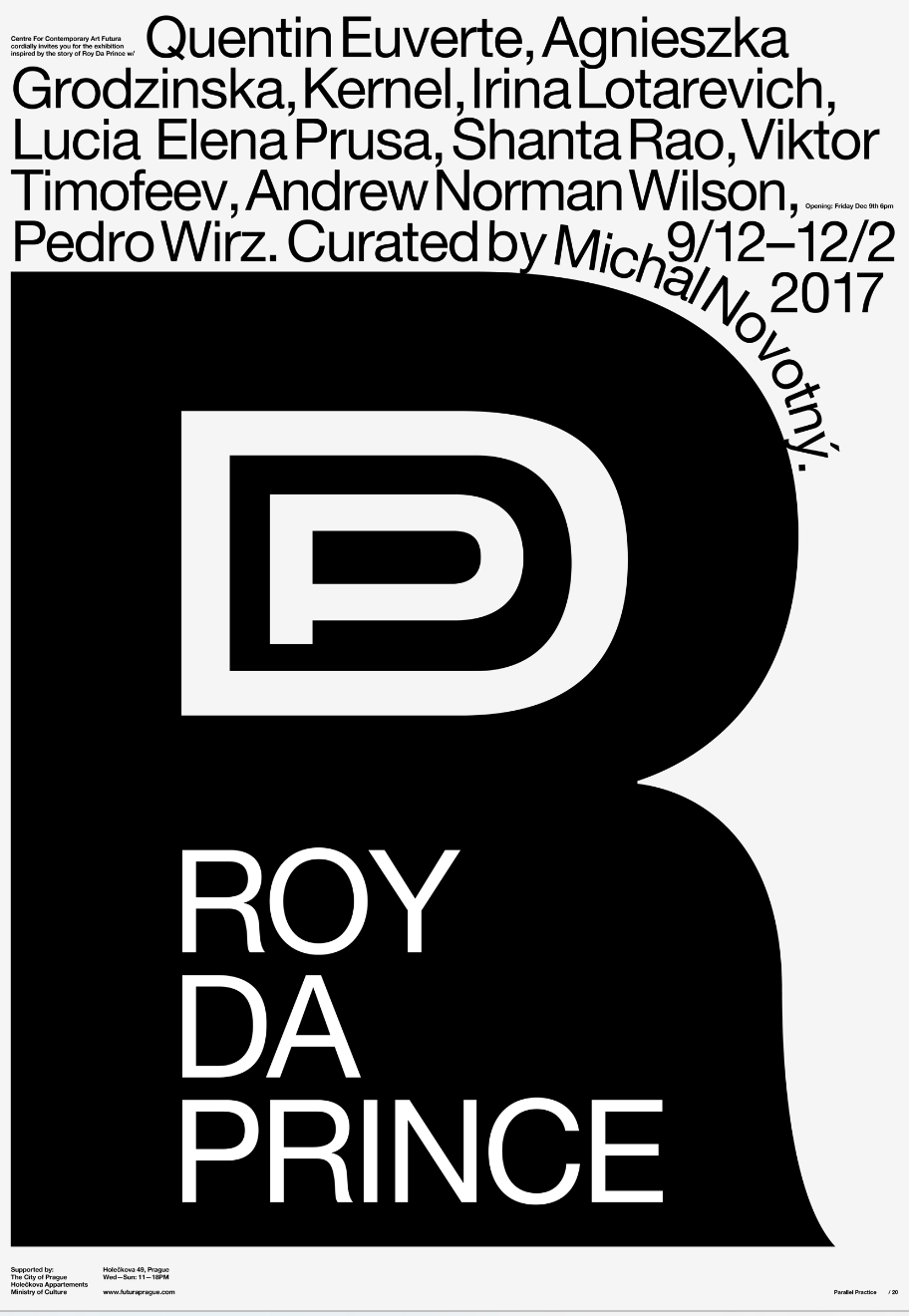 Uniform (E room), 2017
10 aluminum rings
Size 5, Size 6, Size 7, Size 8, Size 9, Size 10
––
At the Cliffs of River Rhine
Oslo10, Switzerland
with Ana Andra, Lorenzo Bernet, Alexandra Bircken, Kaucyila Brooke, Heidi Bucher, Feminist Land Art Retreat, Luca Francesconi, Elisabeth Greinecker, Christine und Irene Hohenbüchler, Stuart Middleton, Jonathan Penca, Lucia Elena Průša
18.11 – 18.12.2016

––
Merlin
SORT, Vienna, Austria
with Ulrike Buck, Frieda Toranzo Jeager, Debora Delmar Corp, Lucia Elena Průša, Manuel Solano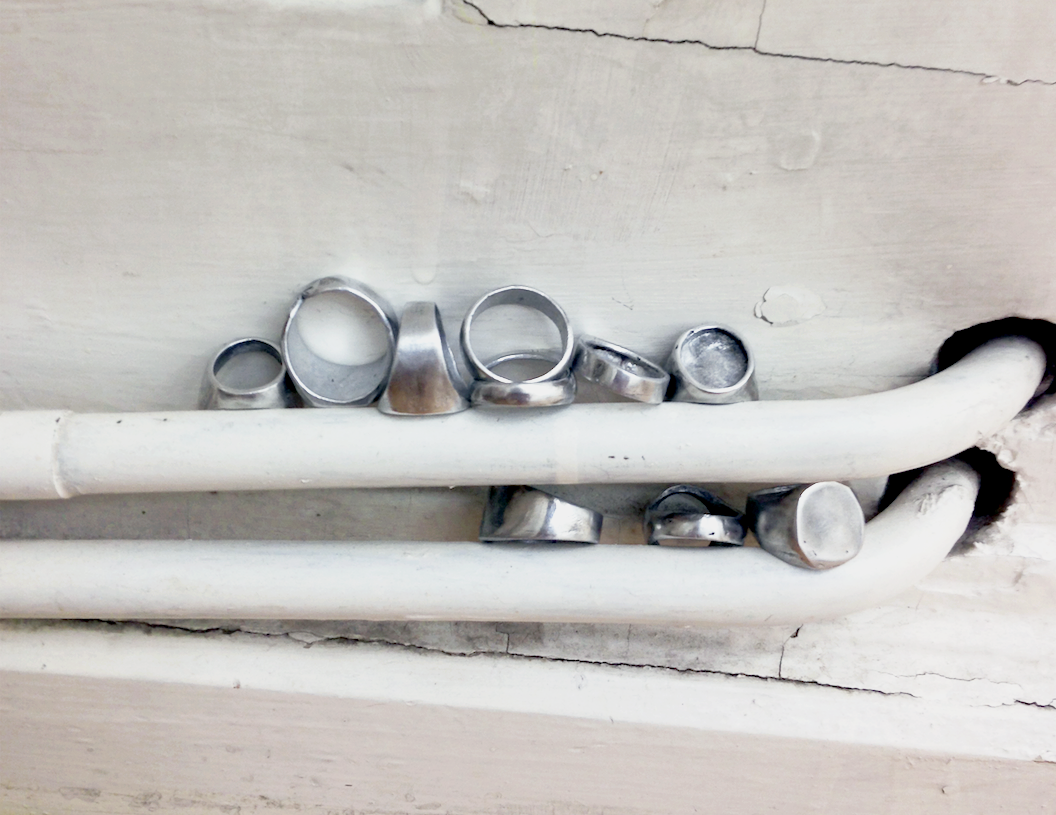 Uniform (on pipe), 2016
10 aluminum rings
Size 5, Size 6, Size 7, Size 8, Size 9, Size 10
––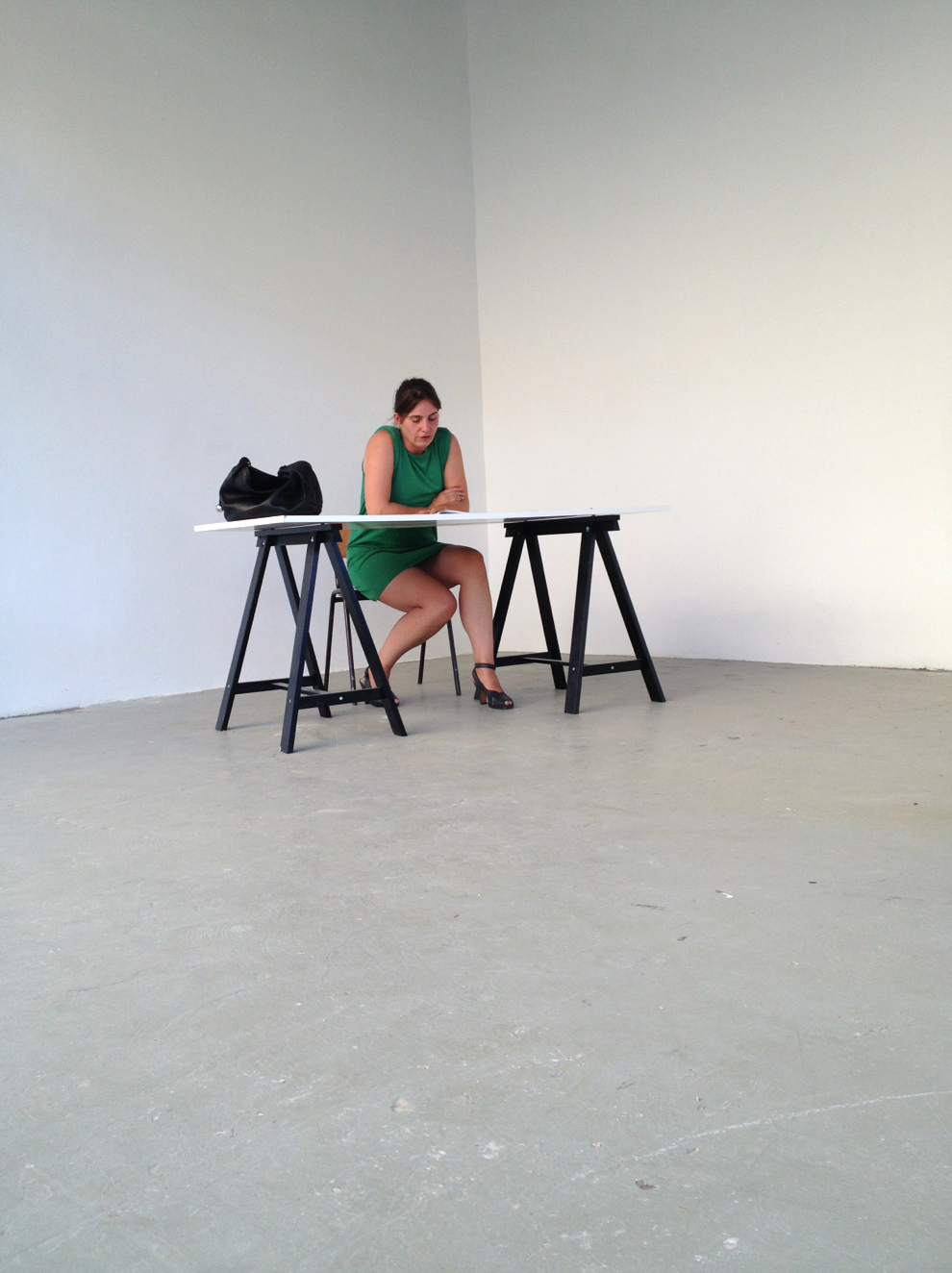 Pandora read by Melanie Ohnemus at Skulpturinstitut, Vienna, Austria
Pandora
by Anna-Sophie Berger and Lucia Elena Průša
Paperback, 94 pages, 2016
order here
Maybe this is about a woman in her mid-40s, she is still struggling with the problems she had when she was 27/30. She is a slacker. Her thoughts are clever, but she prefers acting slow. She is fine with stains. Romanticism is something to keep in bay. Maybe no other person shows up. Just in her thoughts. It's just about explaining her in every little detail we can imagine. She is not in a crisis. Probably something is happening to her. I really like the idea of a natural disaster. Like something comes in that mixes the genres. And also bringing in nature and elemental forces. The smallest volcano is probably still important.

I LOVE PANDORA!

How would it be if there were comments from outside the story? Like breaking the cinema inside the reader's mind? Then it becomes maybe like a movie. But not to comment on what she is doing, just to bring in a first-person perspective, which can be from anyone.

(I feel like we cannot do worse as annalists.)
––
Dead Letter Office
JTT Gallery, New York, USA
with Anna-Sophie Berger, Christophe Charon, Feminist Land Art Retreat, Matthew Linde, Lucia Elena Průša and Min Yoon
19.06 – 30.07.2016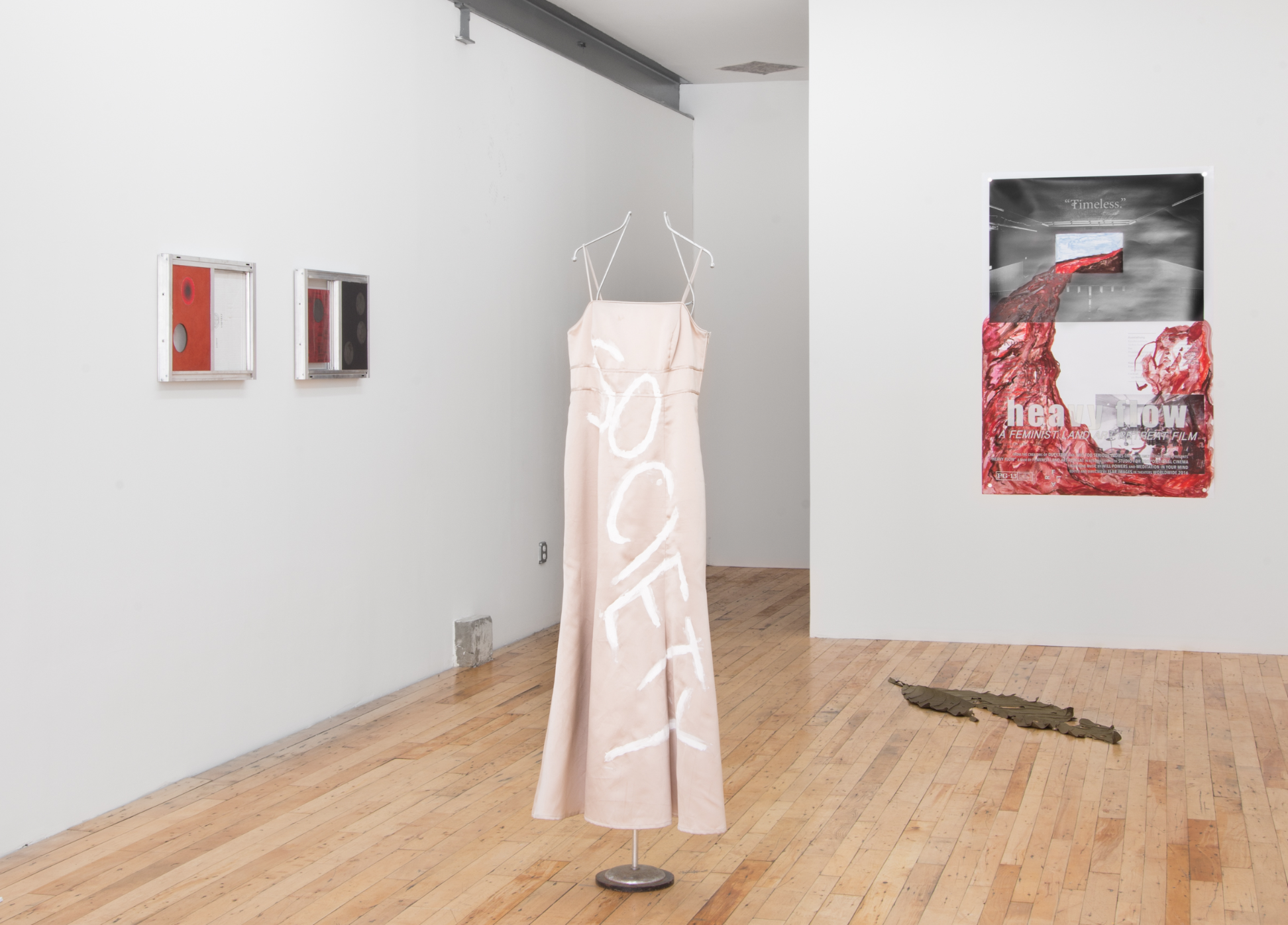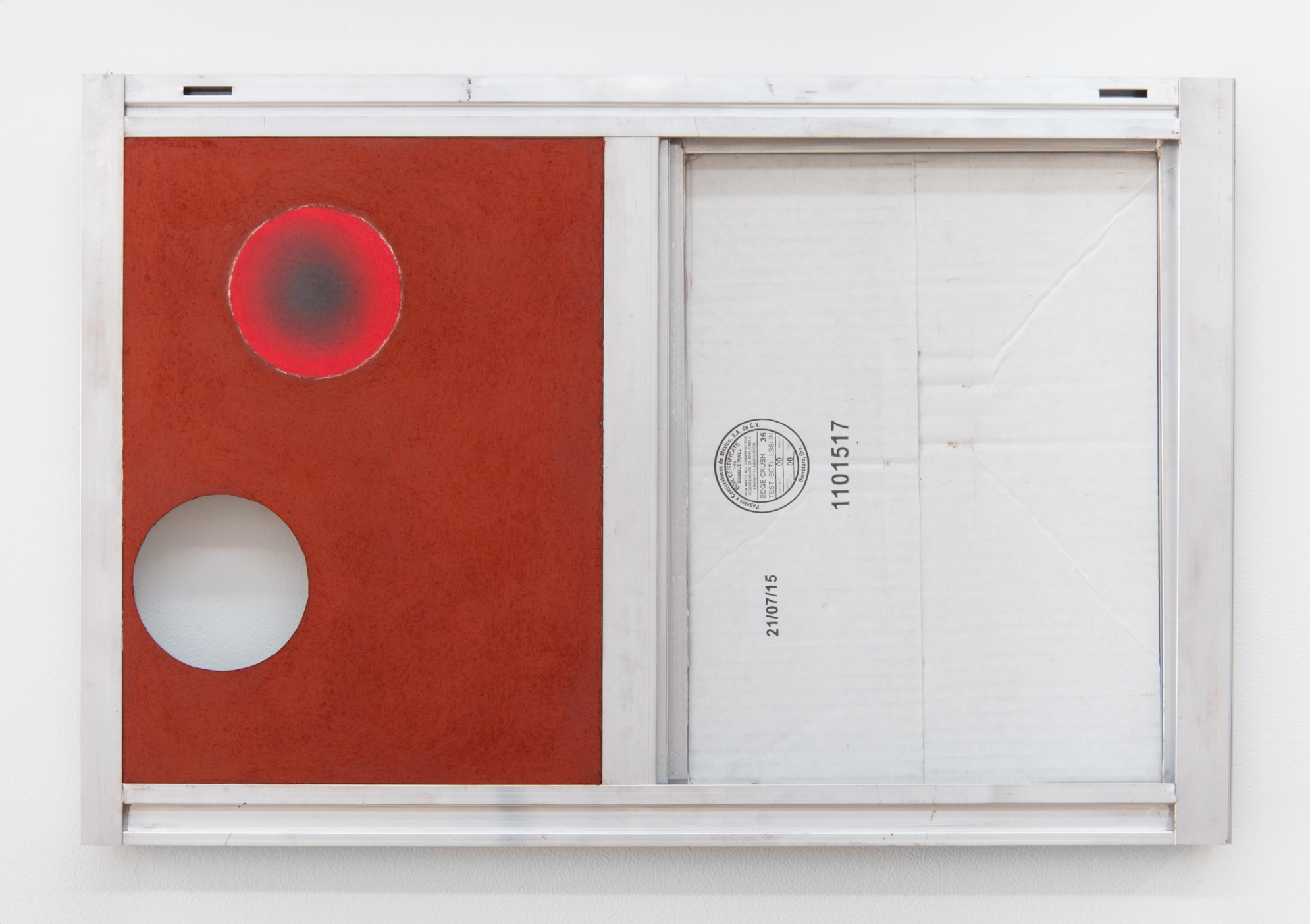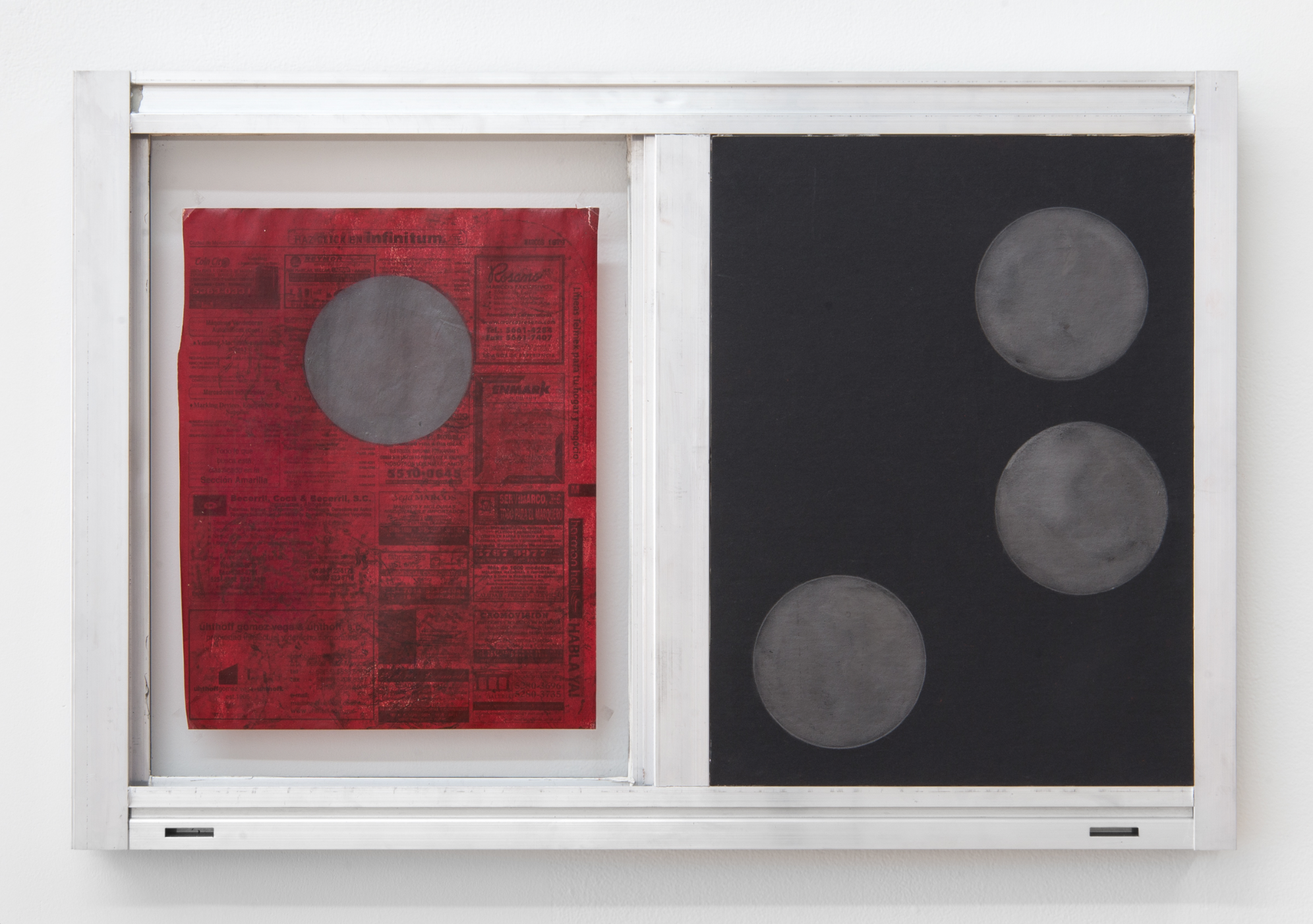 Window 2, 2016
pigments, graphite, paper, aluminum, glass
60 x 40 x 4 cm
Window 3, 2016
pigments, graphite, paper, aluminum, glass
60 x 40 x 4 cm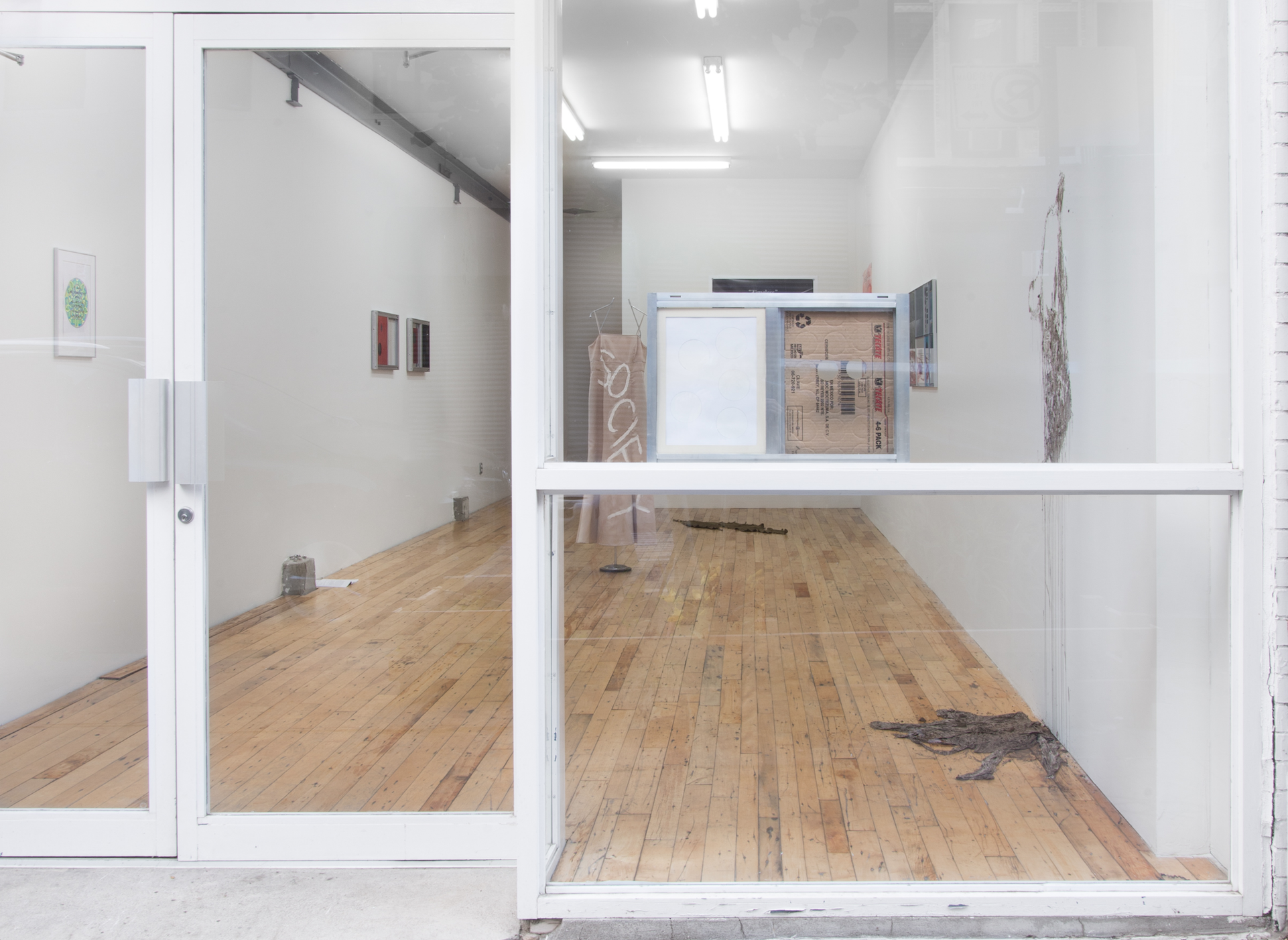 Window 1, 2016
pigments, graphite, paper, aluminum, glass
60 x 40 x 4 cm
Uniform, 2016
10 aluminum rings
Size 5, Size 6, Size 7, Size 8, Size 9, Size 10
––
NOW/HERE
FRANZ JOSEF KAI 3, Vienna, Austria
with Andy Boot, Marilia Furman, Flora Hauser, Raphael Hefti, Alicja Kwade, Lisa Oppenheim, Sarah Pichlkostner, Lucia Elena Průša, Fred Sandback, Max Schaffer, Sarah Schönfeld, Daniel Steegmann Mangrané and Iris Touliatou
30. 01 – 21. 02.2016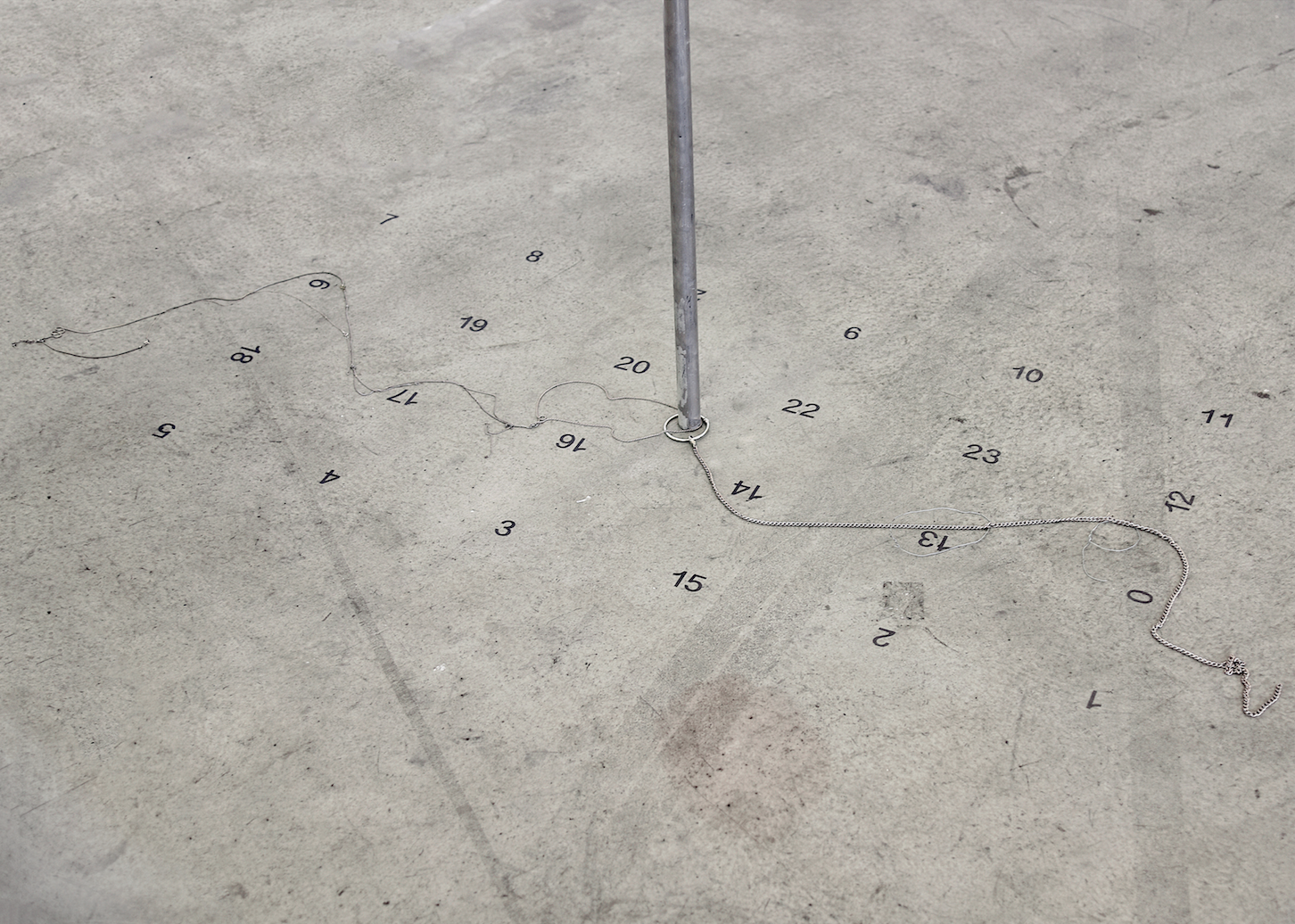 012 315 621 921, 2016
aluminium, plaster, silver necklaces, graphite
64 x 130 x 290 cm
––
Scenes with Flat Objects, TRAVESIA CUATRO, Guadalajara, México
with Elena Bajo, Debora Delmar Corp., Donna Huanca, Tania Pérez Córdova, Lucia Elena Průša and Elena del Rivero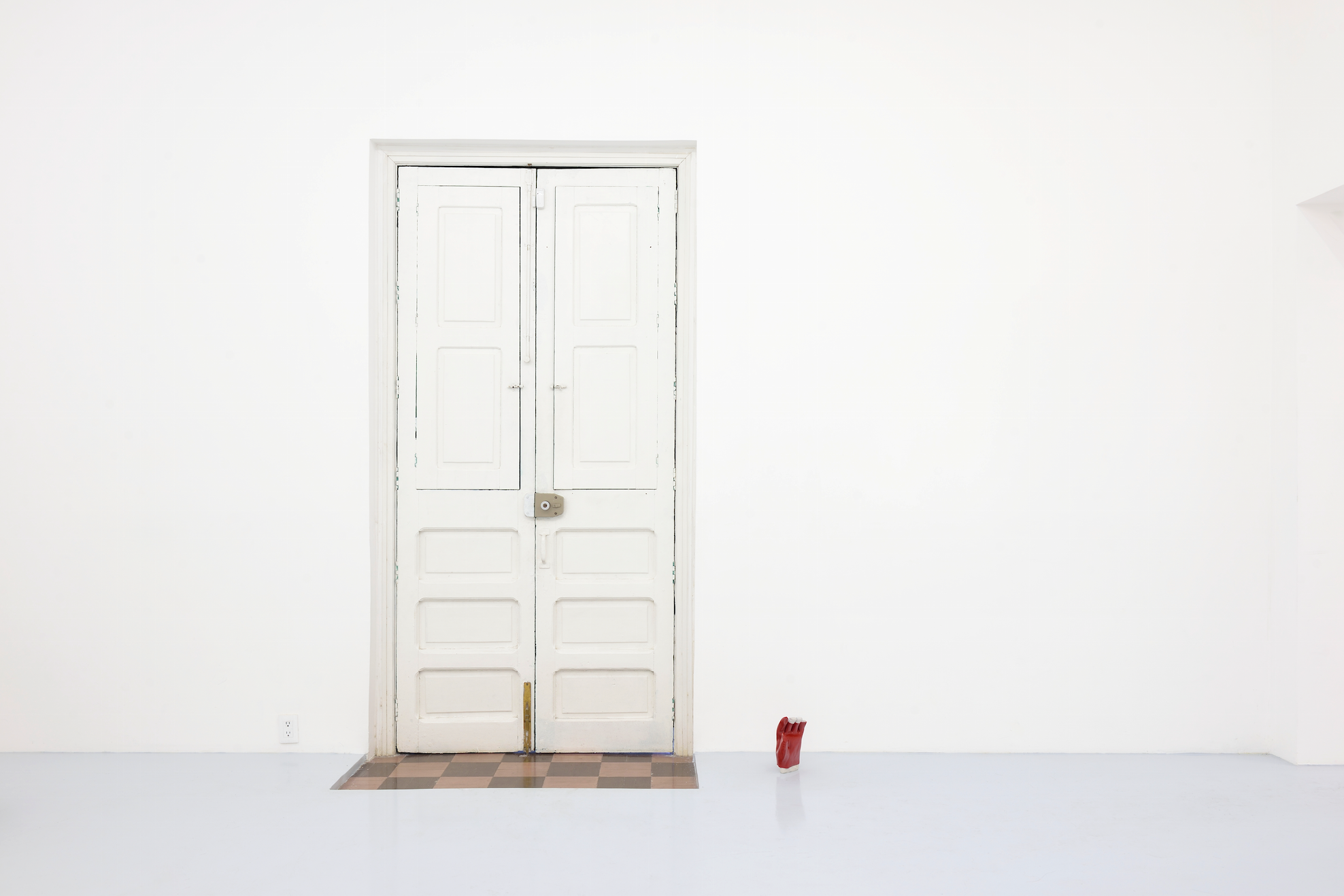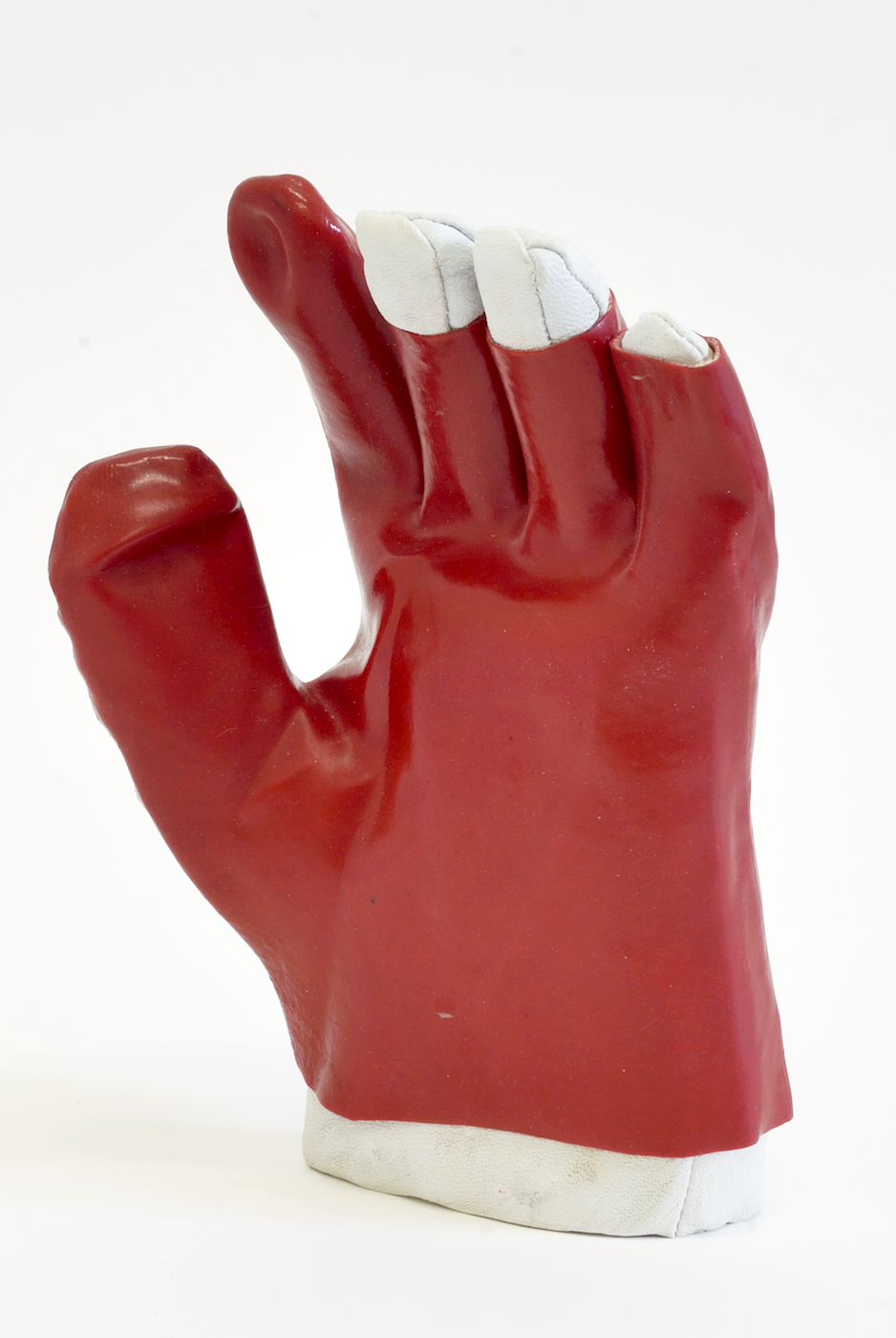 Untitled L, 2016
latex glove, leather glove, plaster
9 x 13 x 22 cm
––
FANTODS with Anna-Sophie Berger, Galerie Kunstbuero, Vienna



VI I II IX IV V XII VII VIII III X XI, 2015
metal, aluminium, plaster, graphite
approx. 40 x 57 x 200 cm

KENI Cycle, 2051
artificial leather, laser print on paper, metal
64 x 78 cm
Untitled (Brixton), 2015
neoprene, leather jacket, necklaces, metal
approx. 40 x 40 x 150 cm

Untitled (Tyrolia), 2015
blackout fabric, gaiter, PVC
approx. 25 x 25 x 130 cm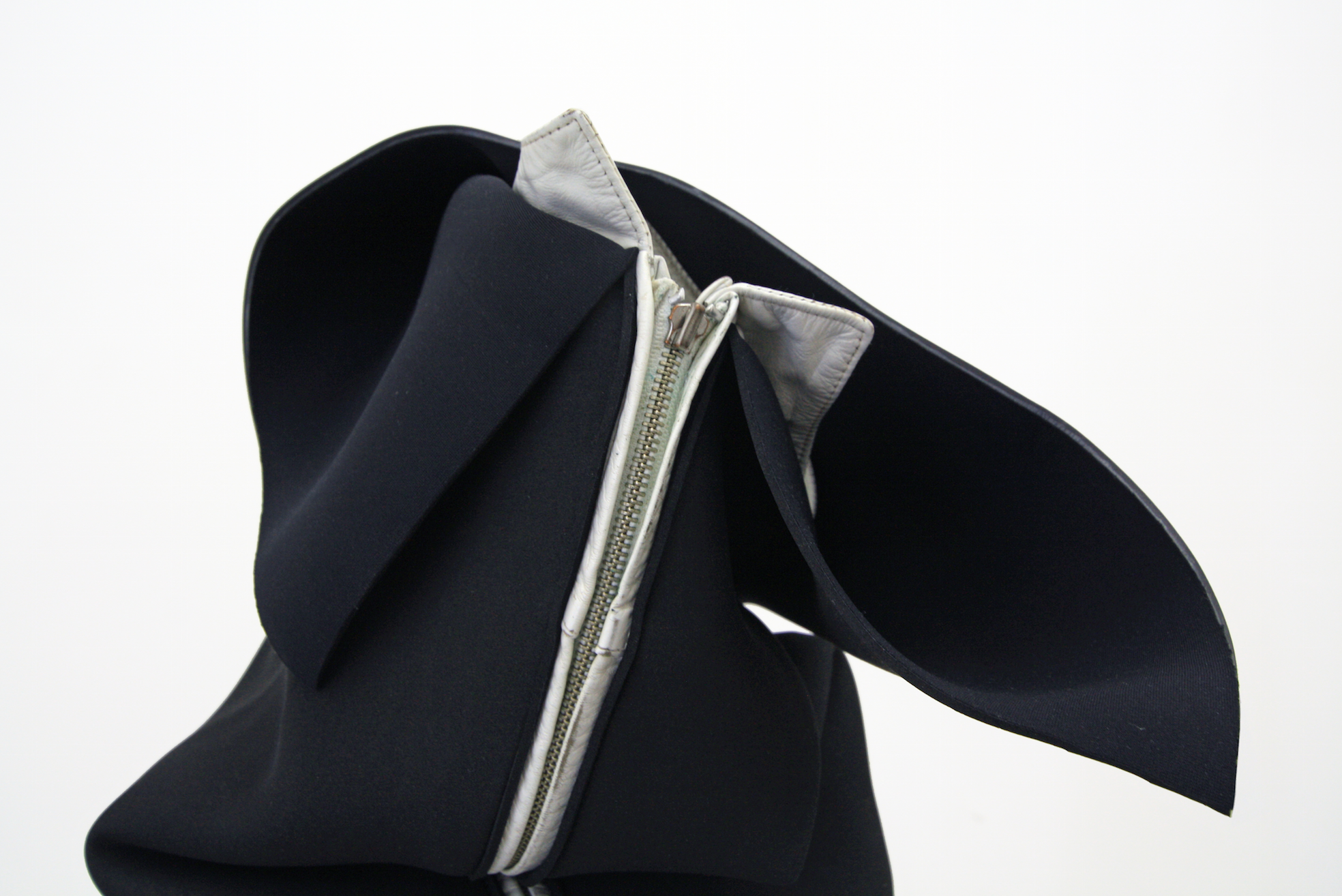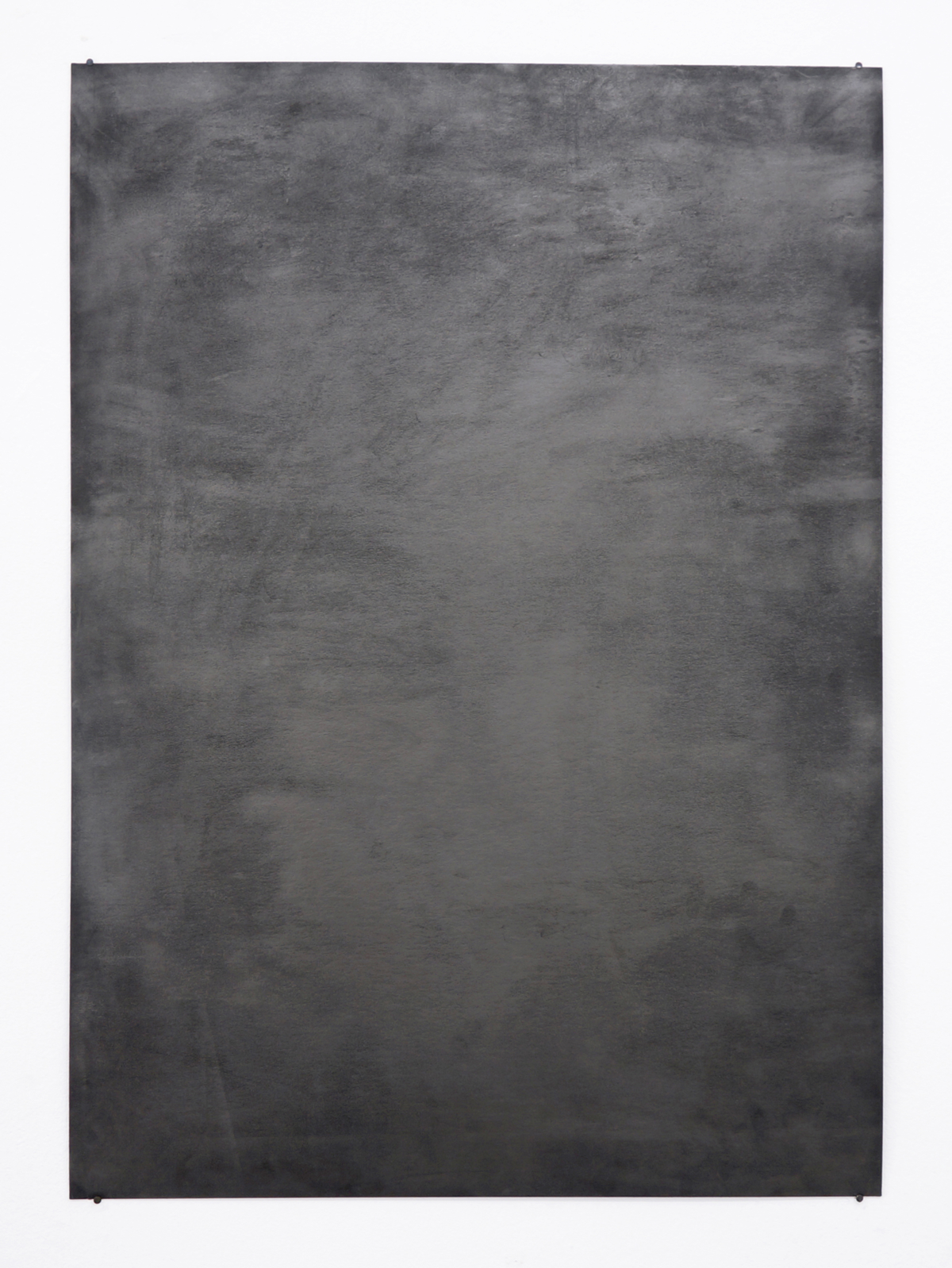 Untitled, 2014
cardboard, loose graphite
50 x 70 cm


Untitled, 2014
cardboard, paper, loose graphite
diffrent dimensions


at New Needs, Haus Wittmann, Etsdorf am Kamp with Daphne Ahlers, Minda Andrén, Nadja Athanassowa, Anna-Sophie Berger, Juliette Bonneviot, Dora Budor, Adrian Buschmann, Tatjana Danneberg, Verena Dengler, Aleksandra Domanović, Flaka Haliti, HHDM with Lucia Stamati + Cathrin Ulikowski, Kathi Hofer, Nora Kapfer, Adriana Lara, Lonely Boys, Sarah Ortmeyer, Ivan Pérard, Lucia Elena Prusa, Hanna Putz, Jon Rafman, Rosa Rendl, Martyn Reynolds, Halvor Rønning, Signe Rose, Lennart Schweder, Lilli Thiessen, Dena Yago, Min Yoon, Marcin Zarzeka
Curated by: Rosa Rendl and Isabella Ritter. Pavilion curated by HHDM.


parcours beige (lazy for evol)', Ve.Sch, Vienna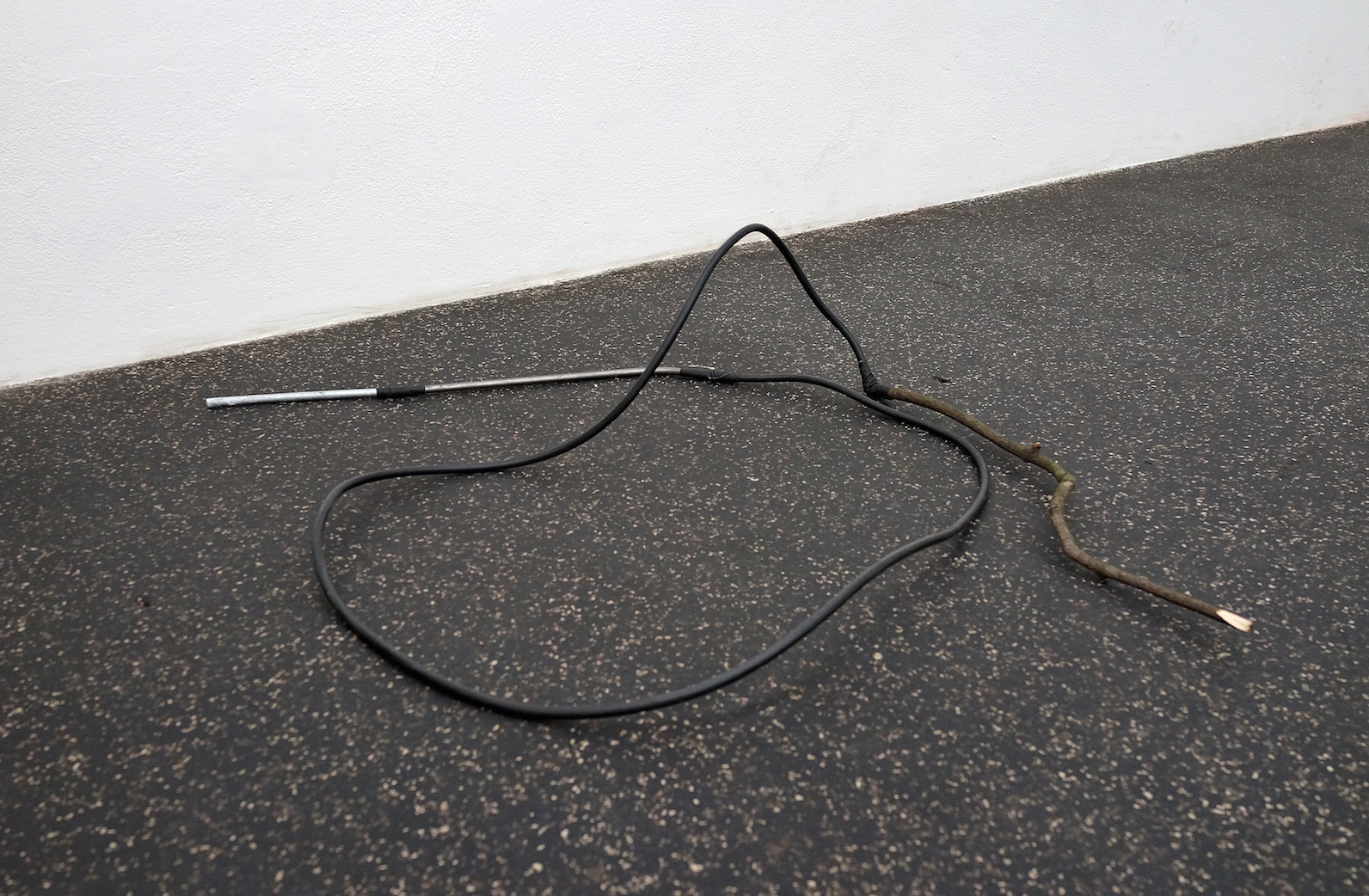 faul, 2014
metal, tape, cable, wood stick
approx. 180 cm